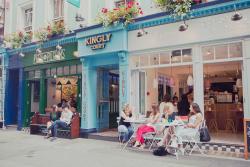 When  you see something every day,  you often don't see it at all.
Despite being born and bred in London I never really saw the Houses of Parliament until I was on a bus going past it recently and all the tourists erupted in a frenzy of cameras.  'Actually' I thought looking  at it for the first time,'it is rather special'.
Based in Carnaby Street we at Foodepedia venture out all over London to eat but there's actually a lot  on our doorstep. So parking the Oyster card we took a look local for once.
Kingly Court was, back in the day, a bit of a sleazy area. A strange sort of cul de sac where one often found oneself after the pubs closed, a bit unsteady. Since those days it's had a major facelift but, as it's still rather tucked away, not everyone knows it's there.
Three-storeys high this al-fresco food and drink destination is composed of 21 cafés, bars, restaurants and food retailers: Pizza Pilgrims, Stax, Soho Grind, The Detox Kitchen, The Rum Kitchen Carnaby, The Retreat Café, Whyte & Brown, Shoryu Carnaby, Bitter Sweet, Camellia's Tea House, Cha Cha Moon, Cinnamon Soho, Disco, Moosh, Shampers, Two Floors, and Wright Brothers Soho.
Recently opened are Señor Ceviche, The Life Goddess, Crumbs & Doilies and Oka Robata Grill and Sushi. Basically you're spoilt for choice under the glass roof
So how can you best tackle this behemoth? Let's approach this logically
Breakfast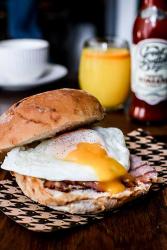 Whyte and Brown, a restaurant that specialises in eggs – the perfect choice for breakfast ovbiously  – with a combination of free range chicken, eggs and craft beer. From breakfast to dinner, chicken comes as soups, wings, salads, pies, kebabs and roasts, there is a big choice of craft beers and you can sit in the rustic style two floors restaurant or go al-fresco in the courtyard.
The Detox Kitchen is a healthy deli located in Kingly Court, and offers great tasting wheat, dairy and sugar free foods. Their aim is to provide a deliciously simple answer to eating a well balanced diet. All of their ingredients are local and seasonal, and prepared daily in the kitchen in Battersea. The Detox Kitchen's juices are mainly vegetable-based and sweetened with a little fruit to ensure they are low in calories but high in nutrients. They make for the perfect pit stop for commuters on their way to work.
Notable mentions
–          Soho Grind for pastries and artisan coffee
–          Moosh for a delicious morning juice or smoothie 
Lunch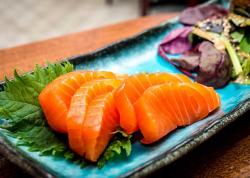 Oka Robata Grill and Sushi –
Located on Kingly Court's first floor, Oka Robata Grill and Sushi is a new pan-Asian restaurant serving'traditional Asian food with a modern twist'. Oka apparently guarantees fresh, seasonal healthy food made to order, traditional mains cooked on their robata grill and daily specials available for lunch takeaways. The menu showcases the best of pan-Asian and sushi cuisine serving a selection of homemade hosomaki, uramaki, nigiri, sashimi and takai sushi alongside mains. The drinks list includes Dewazakura'Oka' Sake, Japanese'Yamazaki' whisky and Sapporo premium beer along with their cocktail menu.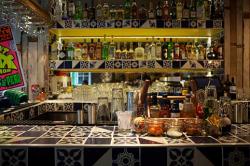 Señor Ceviche serves ceviches, salads and smoky barbecued meats. The menu is Peruvian cuisine with a London twist, alongside a drinks list that includes pisco cocktails, Peruvian beer and South American wines. The restaurant serves Pisco 1615 and drinks exclusive to Señor Ceviche.
The interior design is based on Lima's market life and colonial architecture. Chicha – Peruvian street art – is a big focus, with a Chica wall covered in posters that have been hand printed in the shanty towns, along with Chica art on hand-made plates.  Señor Ceviche supports the charity and families that create the eye-catching artworks, which feature hand drawn lettering and fluro inks.
The Life Goddess serves home-style Greek cuisine prepared using traditional cooking methods. Menu highlights are the moussaka, gigantes plaki and tomato and caper salad. All dishes are made with fresh fruits and vegetables imported from France along with meat and poultry reared by local farmers and fish sourced using traditional environmental friendly methods.
There is also a deli which sells over 300 specialist and signature groceries; customers can spice up their store cupboards with the organic tangerine marmalade, wild truffle carpaccio or just some essential Greek herbs and flavours.
Notable mentions:
–          Stax for all American chicken and burgers
–          The Detox Kitchen for a healthy nutritious salad
Afternoon Treat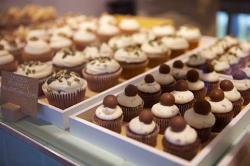 Crumbs & Doilies, a two floor bakery and store serving cakes and cupcakes baked fresh to order in store with each one hand decorated. The brightly designed store offers individual and gift boxed cupcakes, featuring their favourite'classic' and'special' cupcake flavours as well as larger celebration cakes available in three sizes. Key cupcakes include their classics, Vanilla Rose, Red Velvet, Jamaican Ginger, Lemon & Poppyseed and Salted Caramel, whilst specials range from Neapolitan, Maple & Bacon, Chocolate Guinness, Spiced Pumpkin and Mexican Hot Chocolate. They offer locally sourced artisan coffee and organic sodas from All Good Drinks.
Retreat Cafe prides itself on wholesome nourishment, healthy food . All of their products are home-made and carefully formulated by theirvery own qualified Naturopath, chef and founder, Kimberly Parsons. Nutritionally balanced and freshly made each day, absolutely everything on the menu is gluten free and refined sugar free.
Dinner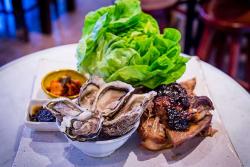 Wright Brothers serves seafood all day from 12 noon. Head chef Sasha Ziverts' menu features modern fish and seafood dishes with an occasional Asian twist and a wide variety of oyster sourced from their own Duchy Oyster Farm in Cornwall.
Shoryu
Authentic, southern Japanese speciality and hipster friendly  tonkotsu ramen in a cool bar setting and the windows open to create an open air restaurant in the Kingly Court courtyard. Vegetarian and gluten free options available.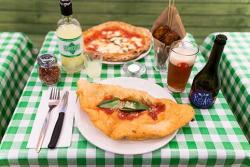 Pizza Pilgrims
 Pizzeria & Frigittoria serves..wait for it…. pizzas:Marinara, Margherita, Nduja and Portobello Mushroom & Truffle, as well as  new varieties, monthly specials and seasonal toppings. They also offer Arancini stuffed with slow-cooked ragu and mozzarella,Pizza Fritta – fried calzones filled with sun-ripened tomato, napoli salami, mozzarrella, parmesan, ricotta and fragrant basil.
Notable mentions:
–          Whyte and Brown for craft beer and chicken
–          Cinnamon Soho for modern Indian cuisine with a British twist
–          Cha Cha Moon a fast casual Asian fusion noodle bar