"Is this all for your lunch?" The delivery man looked at me quizzically. "Yes", I replied, immediately on the defensive and trying to look as haughty as I could in my dressing gown at 11am on a Tuesday before grabbing the box and retreating back to my kitchen lair.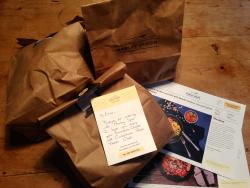 Let's face it, there's nothing quite as exciting as getting a big box of food in the post and Marley Spoon knows this and has capitalised on it with a bespoke recipe kit home delivery service that's dedicated to inspiring people to cook more adventurously.
Marley Spoon is, really, only a baby on the food scene, having been launched just last December by Fabien Siegel – the co-founder of Hungry House – and Tim Neatby, the man behind German restaurant chain MexAttax; but it's already making a name for itself with its international menu choices and emphasis on healthy, balanced and easy to cook meals.
The diverse and ever-changing weekly menus are packed the kinds of dishes you've looked longingly at in Olive or Delicious magazine but never actually bother to cook for yourself. Each seven day offering reads like a whistle-stop foodie tour around the world, from Indonesian Nasi Goreng using Devonshire pork to Japanese-flavoured glazed salmon with wasabi peanut potatoes and bok choi and Jamaican-inspired jerk plantain with green salsa and coconut rice.
I was sent the Devonshire chicken supreme with Middle Eastern rice and carrot salad and the roasted cauliflower steaks with fried tofu, wild rice and a spicy almond sauce. Each order comes weighed, half prepped (there's still some chopping, shredding and blending required to make you feel as though you're doing some actual cooking) and with an idiot proof, step-by-step picture recipe card. There's even a calorie breakdown and a helpline number, just in case you have a kitchen meltdown.
The first thing that struck me was the efficiency of the packaging. Everything comes pre-measured and separated into brown paper bags, including little touches like everything that needs to be refrigerated kept together, ready to be shoved into the fridge on arrival.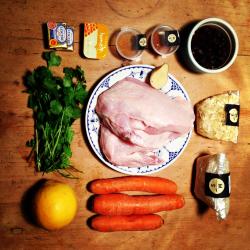 The volume of plastic pots and pouches (I counted seven alone for the cauliflower dish), however did seem a little excessive; I'm not sure you need to separate spices that are intended to go into the same pot of food into individual, teaspoon-sized servings. Luckily though, all of the pots are recyclable and Marley Spoon have an in house recycling system where they invite you to return bulkier packaging like the sheep's wool insulator packs and cooling bags.
The cooking instructions were easy peasy and the results, shocking similar to the pictures provided and tasted impressively and moreishly delicious. Truthfully, as an advocate of cheap home cooking, I thought I might have had my knives out for Marley Spoon and was ready to denounce it as overpriced and wasteful for a single plates of food. But, after a few mouthfuls of the chargrilled cauliflower, crispy tofu and sweet, nutty, spicy sriracha sauce and after I'd eaten the ridiculously juicy chicken dish, I was practically a devotee.
The second thing that impressed me was the sheer quality of the ingredients. The vegetables looked freshly picked, dewey and dirt sprinkled and the meat was firm and perfectly butchered.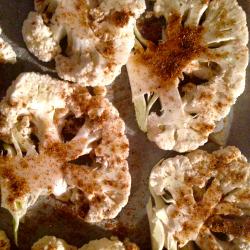 Thirdly, it's worth mentioning that the portions were enormous. Gargantuan even. I consider myself to be quite a little pig when it comes to food with an obligingly flexible stomach that's willing to accommodate often disgustingly huge amounts of food. But even I was defeated by the portions here. Don't be fooled by the delicate mounds in the promo photography – I was making leftover cold salads from the chicken accompaniment of turmeric and raisin rice and shredded carrot and halved the remaining portion of the roasted cauliflower for lunch the next day. This is, obviously, not a bad thing and proves that you're more than able to feed a hungry family on these portions.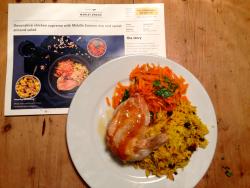 Now comes the sticky issue, the price. Two portions of the Devonshire chicken and two portions of the cauliflower comes in at £11 each and there's a minimum order quantity if four portions. While it's less than what you'd probably pay in a restaurant for these dishes, it's worth remembering that you wouldn't be expected to cook it or clean up after it in a restaurant. Out of curiosity, I added all the ingredients for the chicken dish into a virtual trolley at Sainsburys and it totalled £16.04, and that was with a whole chicken and whole tubs of the spices.
I do understand that the premium ingredients and free delivery hike up the price at Marley Spoon, but I can't help but wonder who could afford to order these meals more than a few times a month. That being said, if you join Marley Spoon as a Food Club member, the prices of the dishes drops to £9.
Despite all that, if I had a dinner party with zero hours to prep, shop or even think of interesting and delicious dishes to impress with, Marley Spoon just might be my first port of call.
Valentine's Day
There must be something much nicer to do this Valentine's Day than paying to be wedged in, cheek to cheek with fifty other simpering couples in a restaurant. Marley Spoon think they've cracked it a special Valentine's menu that you can cook and eat all in the comfort and relative quiet of your own kitchen.
Start with stuffed mushrooms, end with pomegranate-rosewater cheesecake and choose your main course from a selection that includes rosemary chicken with creamy fig orecchiette; whole quail with roast potatoes and fennel; chocolate pork tenderloin with orange and polenta; baked camembert with roast broccoli and rosemary pears and poppy seed curry with fried okra and Bombay mix.
Delivered on either 11 or 13 February directly to your door, the kit even comes with rose petals to decorate. All you might need are a good bottle of bubbly and the perfect playlist.
Marley Spoon's Valentine's Day special is offered at £13 per person. Price is valid for new members to the flexible Marley Spoon Food Club. Orders can be placed until 11 February 2015.