108 Marylebone Lane, London, W1U 2QE 108brasserie.com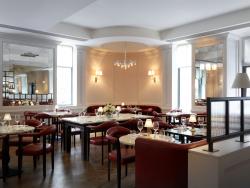 Sometimes you just fancy a steak. A good old-fashioned steak. Nothing ooh-la-la and nothing wowzy mummykins aint that fan-dabby-dozy. At the same time, nothing oh-my-word and nothing what-the-heck. Bit more specialist than a gastropub but less cor-blimey-that-hurt expensive than a fully-fledged hardcore steakhouse. A brasserie. The Coke Zero of steakhouses. Can't go wrong.
108 is cracking in terms of looking the part. It's got that Chicago 50s gangster black/white/red collage sort of feel. Similar to Holborn Dining Rooms, but a lot more muted. There's a transition into more softer colours. Getting a bit bogged down in this. Basically, it looks pucker.
A really inviting menu. It all sounds good – bit limited on the vegetarian options, but, it's a brasserie, what were you expecting. Roasted baby beets sound good anyway, but so do smoked salmon, crab, crispy pig cheeks seared tuna and octopus carpaccio.
I went octopus carpaccio, obviously, cos I'm poncey like that. Top. I like the gooeyness of octopus, that's the best way I can describe it, at least in this form. Otherwise, big fat chunks. This is a lot more delicate, which helps you to notice what octopus can actually taste like. Sometimes even with a dash of tomato & chilli dressing the kitchen has knocked up. Oooh. Nice.
There's mains and then there's a'From The Josper Grill' section, which is always nice to see cos that obviously means there talking up a big protein game. Bring it on bad boy, rib eye it is, been waiting all day.
We should mention there are other protein products available – monkfish, lamb, lemon sole, tiger prawns, grouse, skate wing and of-bloody-course, the pork chop. Hmmm, should maybe have had a pork chop.
The steak was great. If you're thinking all day and you're worried you'll mess it up choosing the wrong place to have that solid steak in Marylebone – safe bet. Chuck fries on, they make good ones. I went peppercorn sauce and it was perfect.
Having a lot of honey glazed carrots at the moment and these rock. Tidy.
Feeling like a complete glutton for inhaling a large chunk of cow and half the field it'd be pointless to look backwards. Forget the fruit, gimme a warm chocolate fondant with peanut butter ice cream you filthy mama. Banging. I'll remember you when I'm face down in a kebab later.
It's a welcome addition to my collection of places. My geography sucks pretty bad. All I really know in Marylebone is the station and the hotel opposite. So at least if someone wants to meet that area I've got a place that delivers.
Loads of choice, if you're all carnivores, big flavours, nice and refined.