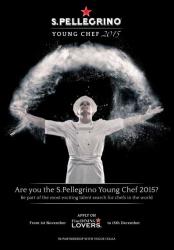 Four of the UK & Ireland's leading chefs, Clare Smyth MBE, Atul Kochhar, Daniel Doherty and Oliver Dunne – who hold five Michelin stars between them – are joining forces with S.Pellegrino in a global search to find the world's best young chef.
As part of the S.Pellegrino Young Chef 2015 competition, the panel of four will be tasked with judging the top ten UK & Ireland young chef semi-finalists, selecting one outstanding individual to represent both territories in the global final in Milan. 
The ten UK semi-finalists that will be representing the UK have now been announced and will compete in front of a panel of leading Michelin starred UK and Irish chefs on February 24th in Harrods.
More than 3,000 young chefs submitted their application together with their signature dish on www.finedininglovers.com for the chance to participate in the S.Pellegrino Young Chef 2015 competition, a global search to find the world's best young chef.
The 10 UK & Ireland semi-finalists will have to prepare and cook their very own signature dish for the Jury in an exciting cook-off event, which will then be critiqued across five areas including ingredients, skill, genius, beauty and message.
This stellar line up of top chefs taking a seat on the jury will ensure that the UK & Ireland puts forward their very best young chef to Milan, making their mark internationally by competing on a global scale. The winner of the UK & Ireland round will be accompanied by Clare Smyth to compete in the inaugural title of S.Pellegrino Young Chef 2015 in Milan, June 2015.
All four of the selected judges have incredible gastronomic success stories. They have opened and transformed top restaurants across London and Dublin, leaving their mark across the world.
Clare Smyth MBE says, "This global S.Pellegrino initiative is one that has gained my full support. Gastronomic competitions like this allow the next generation of Michelin starred chefs to make their mark on the restaurant world and give them a chance to get noticed on a global platform. It is a once-in-a-lifetime opportunity to perfect their skills and cook for some of the world's best."
Smyth, a Northern Irish chef and Chef Patron at Restaurant Gordon Ramsay, became the first and only female British chef to hold and retain three Michelin stars and is one of only six in the world to ever have accomplished this. She was recently awarded an MBE and scored a perfect 10/10 in the 2015 edition of the Good Food Guide as well as Chef of the Year in 2013.
Kochhar was the world's first Indian chef to receive a Michelin star and was awarded the accolade during his time as Head Chef at Tamarind in 2001. Atul then went on to open his first solo venture, Benares Restaurant in London, where he was again awarded a Michelin Star, becoming one of the most critically acclaimed chefs in Britain for his take on modern Indian cuisine.
Doherty holds the position of Executive Chef at the highly acclaimed fine-dining London establishment, Duck & Waffle, showcasing his inventive style through the menu whilst paying homage to traditional British cuisine. In 2013 Dan was named 'Rising Star Chef' by Tatler Restaurant awards as well as one of London's '1000 most influential People for 2014' by London Evening Standard.
Dunne is a Dublin born Chef who gained experience and honed his skills working under Michelin acclaimed chefs Gary Rhodes, Gordon Ramsay and Anthony Demetre, to name a few. Dunne is the youngest chef in Ireland to be awarded a Michelin star, gaining the accolade just 13 months after opening his first restaurant, Bon Appetit In 2013. Since then he has opened his second restaurant – Cleaver East – offering an innovative and unique tasting experience of Irish and International dishes.
This carefully selected, world-class UK & Ireland Jury has an exciting job ahead of them. In February, one talented UK or Irish Young Chef will cook their way into the hearts of the Jury, and embark on a once in a lifetime journey to Milan in June to compete in the global final for the inaugural title of S.Pellegrino Young Chef 2015.
Follow the hashtag #SPYoungChef to keep updated on the event.
The 10 finalists from the UK and Ireland along with their signature dishes are:
Alberto Fluttero from Le Gavroche with his signature dish Bagna Cauda 2015
Antonio Sanzone from Caffè Caldesi with his signature dish Arrosto Misto "Lu Vent"
Garrett Keown from The Bell Inn with his signature dish Slow Roast Spiced Rack of Lamb with Red Onion Bhajis and Sweet Potato puree
Gavin Kellett from The Manor House with his signature dish of Nettles with Asparagus and Garlic
Jamie Coleman from Saunton Sands Hotel with his signature dish Aged Beef with Artichoke, Truffle and Tea
Maria Elena Martinez Otero from Four Seasons Hotel with her signature dish Smoked Orange, Chocolate Heart, Green Tea Crumbs and Ricotta
Mark Moriarty from The Culinary Counter with his signature dish Celeriac Baked in Barley and Fermented Hay, Cured and Smoked Celeriac
Sarunas Godovant from Tankardstown House with his signauture dish Turbot on the Bottom of the Sea
Simone Cantafio from The Vineyard with his signature dish Rack of Lamb, Hearts of Broccoli, Beetroot Salad and Apple Purée
Stephen Holland from Lough Erne Resort with his signature dish Glenarm Whiskey Cured Salmon, Pickle Vegetables and Pistachio Bites
*THE 20 REGIONS
Italy
France
Germany-Austria
Switzerland
Spain-Portugal
UK-Ireland
Russia/Baltics/CIS (ex Soviet union)
Scandinavia (Norway/Sweden/Finland/Denmark)
East Europe
BeNeLux
Med Countries
USA
Canada
Africa-Middle East
Latin America – Caribbean
Pacific (Australia/NZ/Pacific Islands)
China
Japan
North East & Central Asia
Southern – East Asia