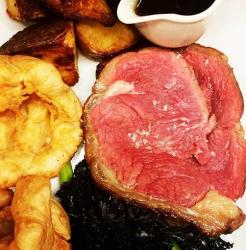 Notting Hill's Pure Taste has become something of a go-to venue for health-conscious fine dining in London.
Specialising in high quality, seasonal produce, Pure Taste are battling the chilly London weather by extending their menu with a traditional Sunday roast dinner; one made in accordance with the Paleo diet.
Available from noon until 6pm every Sunday, Pure Taste's take on a traditional roast dinner will include starter options of Jerusalem Artichoke and Truffle Soup, Cured Bass with Rhubarb, and a Spiced Charcuterie Board with Parsley and Shallot Salad.
A choice of main courses includes Grass Fed Sirloin Beef, Guinea Fowl, and Fish of the Day En Papillote. Each main is served with specially prepared seasonal vegetables and the all-important traditional Yorkshire Pudding.
Desserts include a Chocolate Orange Ganache, Roast Pineapple with Mint Ice-Cream, or a selection of Pure Taste Ice Creams.
Head Chef, Holly Redman says'Opening Pure Taste gave me the opportunity to bring the variance of paleo cuisine to a wider audience, now, it's exciting to show how a staple meal as traditional as the Sunday roast can be prepared and enjoyed with a healthy spin that doesn't compromise on flavour.'
Pure Taste's Roast Dinners are available now, please visit the website below for more information. www.puretasterestaurant.com