You've just three months, probably less now, to try Ceru in Rathbone place. 
Festival goers, you know who you are, may well have already tasted the Levantine flavours on offer – it's the kind of food that goes well with fresh air and sunshine and takes the mind off the fact that the tent collapsed last night and now you can't find your mobile.
It's the first bricks and mortar incarnation of Ceru and it has an Executive Chef to add gravitas, Tom Kime of The River Café, Le Pont de la Tour and Rick Stein's Seafood Restaurant no less.
It's an all-day affair at Ceru but we swung by for a fast lunch, with a bitter freezing wind blowing down the street and into any gaps where scarf met coat. So it was good that Ceru was as hot as a steam bath inside with bright yellow stools of the kind that make you clamber in an undignified manner up to the top, only to realise you've left something important in your bag now hundreds of feet below and out of reach.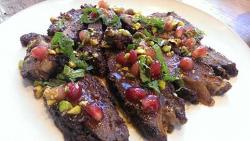 It's a bit cramped, or cosy if you prefer, but that's okay as this is after all more cafe than restaurant and time is usually pressing, as it was for us.
I love Middle Eastern food for its emphasis on fresh herbs and healthy grains and I go all wobbly at the knees when offered a bit of grilled halloumi which I'll have instead of a burger at a BBQ anytime.
Being lunch we shunned the healthy fruit juices on offer and dove into dips. Pancar (roast beetroot, yoghurt, garlic and pistachio) was gorgeously sweet and not over processed and the Fadi (fried baby courgette purée with tahini, roast garlic, yoghurt and lemon) had a freshness that belied the naughty frying.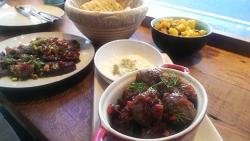 Hummus was proper, heavy with tahini, slicked with oil and electrified with just enough lemon juice.  The roasted red pepper dip which was advertised as spicy with chilli plus walnuts and pomegranate molasses was a bit bland.  The freshly baked pita breads were excellent but could have been in larger quantity as we had dips left and no way of lifting them to mouth except by fork
The signature Slow Roast Lamb Shoulder with shawarma spices was very good; the Middle East knows how to do lamb. Gently spicy, tender, toothsome and sprinkled with pomegranate seeds. Those seeds, pesky when in the teeth, also featured in my karaz spiced baked lamb meatballs with sweet and sour cherry and cranberry sauce and cucumber yoghurt. The balls were properly pink in the centre, indicating good clock work with the oven but the sauce was a bit too powerful for me, verging on the acidic. No worries but I did rather wish I'd had the halloumi instead.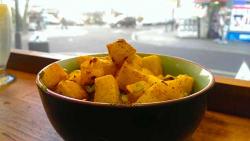 A bowl of spiced potatoes was scalding hot and very yellow, presumably saffron or perhaps turmeric, but easy to eat and generously portioned.
There's plenty on the menu at this pop up plus wraps to take away all day and cocktails too. It may be slated for only three months before it hits the road again but I reckon a more permanent home must be on the horizon.