58 New Kings Road · Parsons Green, London SW6 4LS www.koji.restaurant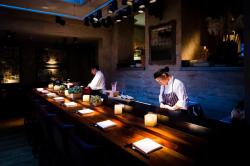 For 29 years this place, at the Parson's Green end of the New Kings Road, was a Chinese restaurant called Mao Tai. That's a long run for any restaurant and what's more it was under the same owners all that time.
But change has to come and as wealth has accumulated in the area so have new customers with a taste for the pricier things in life, so now it's a Japanese restaurant called Koji and guess what, still with the same owners.
They've partnered with Nobuhisha Takahashi, former Nobu head sushi chef in both London and Cape Town to make sure it's done right and said chef can be seen in the back restaurant – the front is all cool cocktail bar space – at the sushi and sashimi station implacably regarding his domain and seriously focussing on his work
It's moodily lit back here, a spot lights the centre of each table leaving dark pools of shadow everywhere else. This is not a bad thing, the room with its glass wall onto the garden is cosy and cool and the atmos is chilled,
It's busy for a Thursday, so things must be going well, The menu helps, the'small sharing plates' thing is perfect for luring people out of the bar when they don't fancy sitting down to a full three courser. You have a plate or two and then, well why not, a few plates more. Insidiously and unseen your bill creeps up.
And of course it's a bit expensive here, by some standards but not for the area. And fresh fish is never going to be cheap unless you haul it out the water yourself.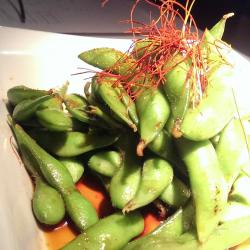 I like edamame beans but still shiver with embarrassment recalling the first time I had them, I ate the whole pod and chewed and chewed on the increasingly fibrous mass for some time until a colleague gently pointed out my mistake, Here they came with a dressing of garlicky soy and were a tad undercooked, but still good though.
Gyoza, the so-called'pot stickers', I just adore. These delicious dumplings have to have their caramelised, almost burnt, bottoms matched to lightly steamed upper parts to be successful and these did, Perfect looking too and tautly filled with, in this case, pork and ginger.
The man with the very very sharp knife served up a plate of white fish so thinly sliced as to be transparent and needing only the lightest dunking in the lop-smacking ponzu sauce so as not to mask its fine flavour.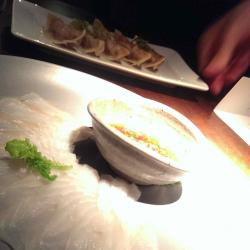 More robust was uzu squid with creamy dipping sauces; tiny pieces of small squid delicately tempura'd and scattered with fresh green chilli. Each sauce, yuzu, togarashi and jalapeño, was good but a little muted so that none completely stood out from another. Of them all, togarashi had the most oomph we felt.
Our waiter was Spanish and so recommended a'special', Iberico pork cheeks from the grill. They were of course excellent, Iberico pork is surely the finest in the world and the gelatinous cheeks actually did'melt in the mouth', perhaps happy to be back in a familiar place.
Feeling still a bit peckish we ordered up some teriyaki chicken. This came as a whole breast, good to see the bone still attached, and pre sliced. I make teriyaki at home and my sauce is heftier and sticks to the meat more than this did. I presume my way is wrong, but I'm used to it and so this sauce I felt was wanting. No faulting the cooking though, the meat was velvety smooth all the way through.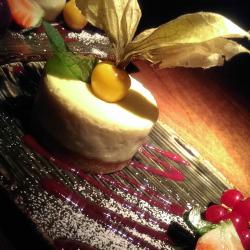 Desserts kept up the style; Sakura & Sake Chocolate Truffles being little lollipops of chocolate cheerfulness that, again, I felt could have benefitted from a bit more – in this case more sakura and sake. Good though, as was Yuzu Cheesecake, yuzu being a sharp aromatic citrus much prized in Japan for its ability to survive in cold temperatures. Here it lifted the creaminess of the cheesecake into adult taste bud territory.
You can snack or feast at Koji which makes it perfect for mid week, can't be bothered to cook nights and the menu breadth means you won't get bored. A neighbourhood place worth making a trip to.