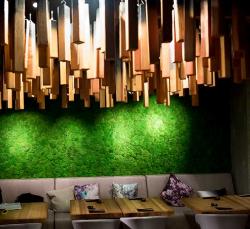 Owned and operated by Ukrainians, no Japanese chef in the kitchen and located in the traditional epicentre of serious food fleecing – Theatreland. Oh how the critics must be rubbing their hands with glee'this one writes itself!'
Well I'm no Japanese cuisine expert, and I'd say few non -Japanese are either, so judging a Japanese restaurant's authenticity is not something I'd casually care to attempt. I can however say with some authority whether I like what's on my plate or not. So onwards.
Even I realise that Tom Yam soup is not actually a Japanese dish, but seeing it on the menu I ordered it anyway. And it was good, even if it had wandered off its usual culinary path. Plenty of plump scallops (not the more usual prawns) plus a fine balance of sweet, sour and spice. It had vibrancy, aroma and colour and just about everything I like in a Tom Yam, although I personally use more fish sauce when I make it at home. The presence of coconut milk in a Tom Yam divides some people, it's in the mix here and it works for me.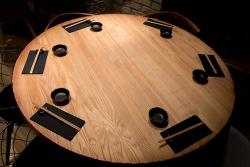 The space at Murakami is large and, as I've popped in between lunch and dinner I can see just how very large as there are few customers to block my view. Not surprising really at this time of day but when I walked past later in the evening it was busy with pre-theatre diners.
The design is fine; modern with lots of wood, all of it apparently sourced from the Ukraine, and a fresh feel with walls of ubiquitous bare brick but, thankfully, none of those filament lamps now everywhere. Instead strange wooden stalactites (or is it stalagmites, I'm never sure) hang from the ceiling and one rear wall is apparently covered in a kind of moss.
Ordering is never easy in a Japanese restaurant, choice is usually overwhelming and Murukami's menu is immense. Confusion and wasting of the waiter's time is avoided by the simple expedient of using lots of pictures as well as a preset selection of plates, varying in price, of sushis, rolls and nigiri.
I picked randomly, having a vague idea of what I was doing, and ended up with some good, buttery salmon sashimi, sea bass nigiri and maki rolls of varying sorts. Everything was as fresh as it has to be, and a lot fresher than some places I've been. The crunchy, golden flying fish roe on some of the maki was a welcome contrast to the slipperiness of the filling and new style (sic) salmon sashimi with murakami sauce is a winner.
It would have been good to try the Robata grill offerings, but time was pressing. Murakami seems to fill a slot – decent priced, above average food for people probably just visiting London, or at least not after a destination restaurant, I liked it for what it is and have no problems with what it isn't..