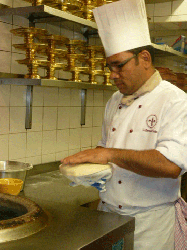 You wouldn't think that behind Oxford Street's Christmas huffers and sharp elbows is an oasis of south Indian charm, but that's La Porte des Inde's secret.
Launched in 1996, executive chef Mehernosh Mody offers at his palm-feathered restaurant a style of Indian cooking inspired by the French Creole cuisine of Pondichéry and other former French trading posts in Southern India. The place is a step back to Edwardian colonial times with its jungle planting, antique artefacts and waterfall as well as heady flowers that exoticise this corner of Mayfair.
Now, on the final Friday of every month, the charming and slightly acerbic Mody is hosting a master class during which he shows students how to recreate a handful of La Porte des Inde's dishes at home.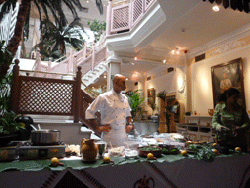 I tried one of the classes and was first welcomed with a fruit cocktail in the lush interior – a former ballroom with skylight and mezzanine. Director and front of house manager Sherin Alexander then showed us around the small but gleaming kitchen whose walls are stacked with copper pots and whatnots. One of the chefs demonstrated how to make a nan, slapping it onto the side of a tandoor and letting it blister and bubble. This is a skill for the quick-wristed; one wrong move and thats your skin ballooned and charred if you're not careful 
After this, we were ushered to the main restaurant, just in front of the waterfall, where Mody and his head chef showed us how to make Bombay potatoes (see recipe below), delicious chard and water chestnut pakoras ("quite simple for a beginner") and a delicate, coconut-milky prawn curry.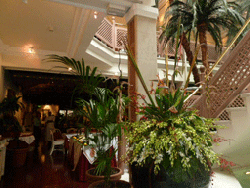 Mody also showed us an old-fashioned coconut extractor like my foremothers would have used where the iron crank wrings out a thick coconut milk leaving the solids in the husk for grating. As we listened, he offered tips about spice and food storage while affectionately teasing his accomplices – the magnificently moody Mody is certainly boss!
And wine expert Jacqueline Kay of Berkmann Wine Cellars was on hand as we sampled their tasters to give us the low down on which wines accompany their food best – Antipodean, apparently, because their aromatic, strong flavours counter Indian spice effectively.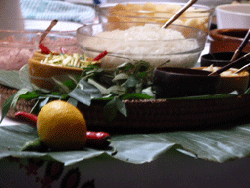 After the demonstration, you get lunch and ours was a street style platter of lamb sheekh kebab, chicken samosa, tilapia filet in coconut sauce, chicken curry and mushroom spinach bhajia – all of which did the job but were nowhere as good as the samples we got at the demonstration fresh from the hands of the chatting chefs. Such a thorough initiation in one afternoon left me with a vivid insight into the life of a working kitchen and restaurant and seems well worth the fee.
Timings are from 12pm until 1.30pm with a three-course lunch from 1.30pm onwards. The price is £45 per person to include VAT. Guests will also receive a signed copy of La Porte des Indes cookbook, a complimentary spice mix and a certificate of participation.
La Porte des Indes, 32 Bryanston Street, London, W1H 7EG
 RECIPE: BOMBAY POTATOES
Ingredients
·         500 g/1 lb 2 oz peeled baby new potatoes
·         2 tbsp vegetable oil
·         11/2 tsp cumin seeds
·         3-4 garlic cloves, peeled and finely chopped
·         2.5 cm/1 in length finger of ginger, peeled and finely chopped
·         3-4 green chillies, finely chopped
·         1 tsp turmeric powder
·         1 tsp red chilli powder
·         11/2 tsp coriander powder
·         1-2 large red onion, finely chopped
·         Salt to taste
·         3 medium size tomatoes, finely chopped
·         2tblsp tomato puree
·         A few stems fresh coriander
·         1 knob butter
·         ½ fresh lime
·         Fresh coriander, to garnish
Method
Put the potatoes into water and boil till cooked through.  Drain, and when they are cool enough to handle, cut in half.
Heat the oil in a saucepan, put in the cumin seeds and, after a few seconds, add the onions and lightly brown. Then, add the finely chopped garlic, ginger and green chillies and fry until they are lightly browned.  Follow with the powdered spices.
Add in the tomatoes and cook on a simmer for 10-12 minutes. Put in the tomato puree.
Toss in the potatoes and stir-fry for 1 minute, then add the salt, fresh coriander and butter and stir-fry to mix, squeezing in the lime juice.
Serve hot, garnished, if you like, with cherry tomatoes and fresh coriander.  
© La Porte des Indes