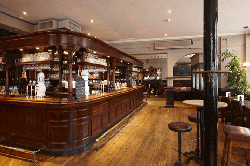 The White Horse in Parsons Green is a pub that has been serving a diverse range of beer long before the wave of'craft beer' pubs crashed on to London and washed all over the hip parts of the city. 
As if to prove it, The White Horse held their Annual Old Ale Festival for the thirtieth time last weekend, an event that sees the pub meticulously clean their cellar and lines to bring in around 80 different beers, from old ales, porters, stouts and barley wines, to strong ales and milds.
I tried a small selection of the beers procured for the festival and amongst them were some beautiful examples of the styles on offer. Rock Star, a US-style brown ale made by a collaboration between Huddersfield-based Magic Rock and southerners Dark Star, was a well-judged balance between floral hops and dark malt flavours.
Bingham's Old Ale had one of the regulars in a state of fervour only comparable to that of the hysterical types who speak in tongues at those terrifying religious rallies in the US, but his behaviour was a bit easier to understand when I tried it for myself. 
Similarly, Bath Ales Festivity was both enjoyable and unusual, still carrying some of the flavours of the brewery's year-round beers but with a deeper colour and more wintry taste.
In fact it's doubtful that any of the beers on offer would be classed as anything other than wintry, perhaps'autumnal' at most. I get more ambivalent about beer once the ABV goes past the 8% mark, especially with whisky-cask aged brews and barley wines, but the ones we tried were of excellent quality, even if there are other styles I prefer.
Chatting to cellar manager Jamie Percival during a tour of the pub's vast cellars only makes you more confident that if you like the look of the beers available on paper, you won't be disappointed when they're in your glass; the team goes to great lengths to get rare and unusual products for the weekend and it's obvious they take care to treat them properly when they arrive.
The pub itself has been refurbished recently but wood panelling and wingback chairs means it still feels like a traditional boozer inside. The White Horse puts on a hog roast during the festival to keep the ale drinkers happy and relatively sober, and even Morris dancers come in for a pint and a knees up. The clack of wood-on-wood is not to everyone's taste but it does go to show what kind of place The White Horse is; a proper pub serving lots of well-kept beer and decent grub. It's worth a visit any time, not just during the festival.