There's still time to get out the BBQ. In fact the weatherperson is suggesting we're in for a spell of fine weather for a while. But of course you can't usually trust the forecasts so keep the kitchen on standby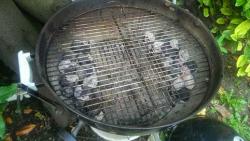 By now you may be getting a little fed up with standard BBQ food – the burnt sausage, the potentially lethal half cooked chicken leg, the burger that is boring no matter how much madness you stuff into the bun to go along with it.
Well we're here to help. Sifting through the box of WORLDFOOD bottles in the office we had some'what if?' moments. Some of them were standard, some were a bit random but at the end of the day, or rather evening, we felt we had done our bit to make BBQ a bit more exotic and a little less lame.
Obviously you start with the things designed to be used as marinades. Thai Turmeric Lemon Grass Marinade & Stir-fry, (£1.89) a blend of lemon grass and Thai herbs and spices is perfect to create a Satay dish but why stop there? Chicken can get a bit samey after all.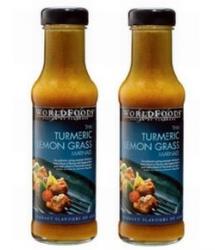 It can be usefully glugged over a mix of chicken and beef and then left to marinade for at least an hour. Thread the meats onto skewers, alternating with hunks of red and green peppers, and maybe some onion slices too, and grill. If you're careful you'll get nicely crunched exterior and moist but still cooked centres. We do recommend a good meat probe thermometer like the Thermapen, an investment you'll never regret.
How about something a little weirder but still good. If you have a kettle BBQ, rack the coals to one side and when it's all hot put some chicken bits that have been marinating onto the non coal part in a baking tin and give them about fifteen minutes with the lid on.
Meanwhile splurge some marinade (fresh from the bottle, marinade from the chicken is not safe unless cooked) onto some pitta breads, top with the cooked chicken, some mozzarella and onion, add a dash of fresh coriander and place back in the BBQ for ten minutes or until the cheese has melted and it all looks sizzly and then serve.
WORLDFOODS also have a Malaysian Chilli Coconut Marinade Stir-fry sauce  (£1.89) which is great is great for livening up the grilled meats but also we found rather effective with rice.
Get a big pan of cooked rice ready and then in a wok fry some onion and garlic with some lemon grass or some WORLDFOODS Lemon Grass Paste (£1.59) and then shoot in the rice and plenty of the sauce. The coco-nutty rice result goes great with all kinds of grilled meats.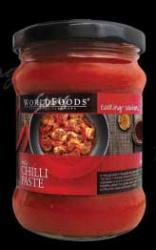 Of course everyone likes a bit of a kick to their BBQ or grilled food, and a dollop of chilli paste from WORLDFOODs speciality paste range can be spread direct from the jar to your burger bun in place of ketchup. It's not fearsomely hot and it has nice vinegary astringency.
And if you made too much pulled pork and want to jazz up the leftovers, try stirring one of the marinades through to moisten the meat and add some real zest. Or again that chilli sauce is your flavour friend. And have you ever tried stirring some Garlic Paste  (£1.59) in with the salad dressing? Oh yes…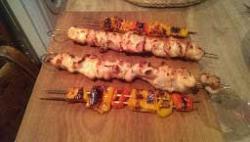 Summer may be dwindling away but there's still time to get your grill on.
For an authentic Fusion & Asian cooking experience in your own home, you can buy WORLDFOODS sauces direct with a large range of 18 types of Asian dipping sauces, pastes, noodle sauces, stir-fry, cooking sauces and marinades.  Get free shipping when you use the unique Foodepedia code V2T9QF63.
Each WORLDFOODS sauce is developed from local blends using 100% natural ingredients, traditional herbs and spices with flavours from Thailand, Malaysia, Indonesia, Cambodia, Vietnam, China, Singapore and India.