It used to be for wimps, now it's all too often sad sandwich or nothing at all. Nik Speller has lunch delivered to his desk courtesy of Deliveroo.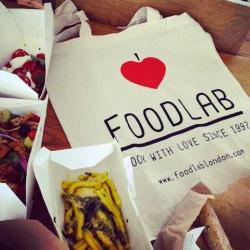 Lunch delivered to the office is the epitome of convenience. A chance to maximise the time spent sat at your desk, minimise the amount of time spent walking to Pret and/or free your evenings from the laborious task of sandwich making.
Peculiarly though, convenience isn't always desirable. The 8+ hour day does need to be broken by a small sample of fresh air and a break from the eye-corrupting hi-res screen. And I know people who would choke at the idea of spending over £5 on their lunch, when bread and tins of tuna from Sainsbury are so much cheaper.
Perhaps I'm just lazy, but I could get used to being waited on, particularly when I'm enjoying the sedentary life of a warm office. After all, specialisation is economically efficient: someone pays me to sit monkey-like at a typewriter, so I'll pay someone to cook up lunch and scooter it to my door.
Deliveroo then, is the service for folks like me. It's one of a host of websites that have appeared from the ether to provide a restaurant to table delivery service from some of your favourite eateries.
Put in your postcode and up pop a number of choices – 41 in total for our office. Scrolling the list, I spotted some familiar names: Gourmet Burger Kitchen, Canteen, The Diner, Andina and Tramontana Brindisa, to name a few. No prizes for guessing where my office is, by the way.
On this occasion, it was their treat, so their choice. All I did was put in a request for lunch to be delivered at 12.30 and three minutes before it was due, a phone call, combined with a knock at the door (I hate it when they do that – which one do they want me to answer first?!), announced the arrival of a scooter laden with boxes of steaming goodness from Food Lab.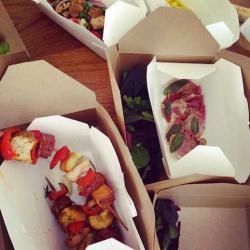 Food Lab is an Italian on Essex Road. With that name, the cuisine is obvious, not. It was plentiful though – four bags of mystery food – a feast for a king; albeit one who likes a lot of bread and salad. That kept the vegetarian among the diners happy, leaving me free to tackle the lobster linguine and seabass. It's a hard life, I know.
The linguine was still warm, perfectly cooked (slightly al dente) and covered with a sweet rich ragu. Unfortunately, lobster and fish don't travel too well it seems both were quite dry and rubbery. A real shame, but an occupational hazard, I suppose, when you're having lobster delivered for lunch.
In truth, it's hard to review a food delivery service. To be a success, they have to be absent from your memory after the event. A seamless process where what you ordered arrives, complete, cooked and on time. Deliveroo achieved that, so I promptly forgot about the experience.Two thumbs-up to them.
Providing all of these new delivery services achieve this unremarkable benchmark then the only real point of difference is the range of restaurants on offer. Here Deliveroo excel. The list – for Hoxton – is long and plentiful, full of places where I like to eat and frequently do. If you have similar tastes to me then Deliveroo is one to try next time you can't move from your swivel chair.