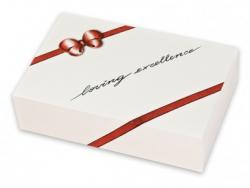 Another tasting box arrives at Foodepedia towers, after Black Dog we now have Loving Excellence. It's fancily packaged and reeks of class, not literally you understand although quality cardboard and packaging does have a very pleasant aroma which adds to the unwrapping pleasure. Inside is a sea of red paper and from it goodies begin to emerge. Out of what appears to be hundreds of products on Loving Excellence's website, we've randomly received a selection to taste so having got them home here goes.
Caramel and cinnamon biscotti don't actually make it out of the office, tea is bought and biscuits nibbled (and in some cases dunked). Beautifully sweet but with a grown up flavour so as not to be sickly. Approved by all.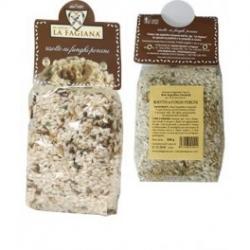 Back at home we give the risotto rice pack a try, at £10 for a 300g bag this isn't cheap rice but good risotto rice is never cheap. The pack also has a lot of dried porcini in it, which obviously pushes up the price too.
It is good rice, it swells gently as the stock is slowly massaged into it and the porcini grow cheerfully plump. The resulting risotto feeds three easily, four at a pinch. There are six kinds of risotto packs to choose from, many with added extras such as rucola and nettle or aubergine and peppers.
Wine? Well why not. A bottle of Barbaresco DOCG 2009 is in the hamper, so out with the cork and with the glasses. This is a pretty powerful red from what appears to be a massive selection of high quality wines of all kinds and colours.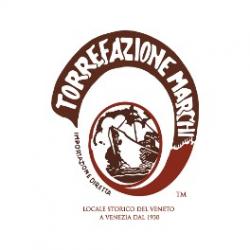 It's a real Christmas wine, the rich garnet colour being very festive. A porchetta would work wonderfully with this one; the 100% Nebbiolo grape is rarely found outside of Italy and is a beautiful rival to Pinot Noir. A very grown up wine to be kept back to be drunk when alone!
There's honey and coffee too, all look good but no time to taste.
The Loving Excellence website is a drool wish list, online ordering is straightforward and there's still time to take delivery and have a very excellent Christmas