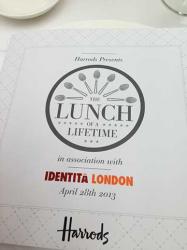 Billed as the'Lunch of a Lifetime' and sponsored by Moretti beer – seven of the greatest Italian chefs in the world, boasting 13 Michelin stars between them, cooking a seven-course lunch – who could really argue?  Not Joel Porter that's for sure.
Identita London was launched in 2009 to celebrate the finest in modern Italian cuisine and returned to the Capital last Sunday for its fourth incarnation. This year's event was held in Harrods grandiose Georgian dining room, situated on the fourth floor (adjacent to the Disney café and round the corner from the pet spa).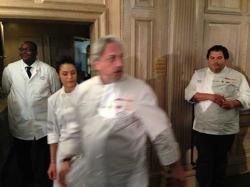 The Magnificent Seven chefs were, in order of appearance: Carlo Cracco, of the eponymous two-starred restaurant in Milan; Enrico and Roberto Cerea of the three-starred Da Vitorrio in Bergamo; Luciano Monosilio of the one-starred Pipero al Rex in Rome; Davide Scabin of the two-starred (are you keeping count?) Combal.Zero in Rivoli; Genaro Esposito of the two-starred La Torre del Saracino in Naples; and unofficial event-headliner Massimo Bottura of the three-starred Osteria Francescana in Modena.
Before each course was served, its creator appeared on stage to demonstrate its intricacies, which was an interesting, if not altogether necessary diversion. But if the event itself was rather dry and bogged down in fanfare, the food, happily, was anything but.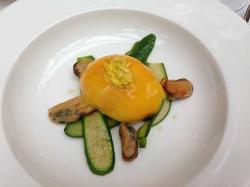 We started with two antipasti, Carlo Cracco's saffron-infused poached egg with courgettes and mussels and the Cerea brothers' salted codfish salad with smoked potato mouse. Carlo's dish was light and well balanced, the saltiness of the mussels cutting through the rich egg yolk (marinated in saffron water for 24 hours), and the courgettes providing the required crunch. The Cerea's potato mousse was a delight – as smooth as you're ever likely to find – and the salted cod hiding at its centre was bursting with flavour. It left me wanting more; alas, my neighbour's plates were also empty.
Two very different pasta dishes followed. If you call your dish'The Legendary Carbonara', it had better be good and Luciano's thankfully lived up to its billing. Great chucks of crispy pig cheek took the place of the standard pancetta, the egg yolk was silky smooth and the pasta perfectly al dente. This course was served not with a matched wine, but with a matched beer from principal sponsor Moretti and, we all agreed, it worked very well. The dish was rich – deliciously rich – and very salty, but the crisp beer cut through nicely.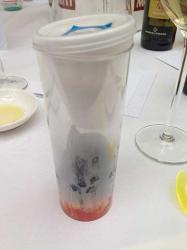 Next up was Davide Scabin's'Pasta Shake', the only dish I've ever been served that came with its own printed instructions. Into a plastic cup containing roasted peppers, black truffle and squid-ink pasta we poured our anchovy sauce.'The more you shake, the more flavour you get!' Davide cheerily instructed us. Incredibly, perhaps disappointingly, not a single guest lost their grip and, with a tiny plastic ice-cream spoon, we all tucked in.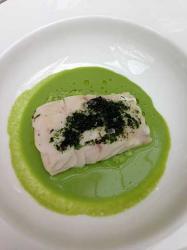 The first main course, courtesy of Genaro Esposito, was grouper fillet in a chlorophyll reduction. The fish was perfectly cooked, the moist flesh flaking apart at first touch, and the chlorophyll reduction had wonderful depth while still remaining beautifully fresh.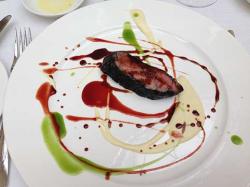 Then came the big one, Massimo Bottura's'Psycedeclic Veal'. It was stunning; one of those rare dishes that linger on the mind long after the taste has dissolved. The veal is cooked sous-vide at 64°C, then brushed with special oil and smoked salt to give the taste of grilled meat. The plate is then dressed in the colours of the Italian flag using chlorophyll, potato puree and a reduction Villa Manodor balsamic vinegar. It looked like a work of art and it tasted heavenly: the meat melted in your mouth and the sauces all came together in beautiful harmony, sending your taste buds into overdrive.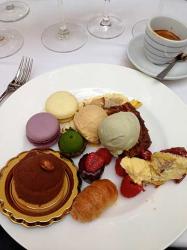 Dessert came in the form of a buffet, courtesy of the Cerea brothers. There was a stunning array of cakes, tarts, fruit and macaroons all beautifully laid out on long tables. In the interests of thorough journalism, I loaded my plate with as many as I could – I especially enjoyed the chocolate and raspberry cake, the profiteroles and the hazelnut ice cream. All this is served with Moretti La Rossa, a dark lager made from 100% malted barley. Its rich, sweet flavour provided a suitable accompaniment to the final course(s).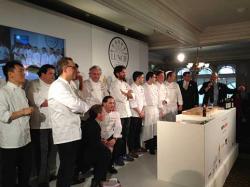 All the chefs' dishes demonstrated an innovative take on Italian cuisine, but if anyone represents its cutting edge, it has to be Massimo Bottura. His deep passion shines through both on the plate and in person. Speaking with him afterwards, I asked him about Italian tradition and how it can evolve.
'At age 49 I am still discovering new Italian flavors. I am asking myself: "what are authentic Italian flavors?" A great part of my investigation is about throwing away my own assumptions about tradition, territory and ingredients. Clean slate. I am tasting, traveling and discovering within my own country and outside it as well. Italian food is internationally appraised and yet it seems still to be stuck in someone's grandmother's kitchen. It is as if Italian food is not allowed to evolve.'
The night after Identita, Massimo's restaurant, Osteria Francescana, moved up two places to be crowned number three at The World's 50 Best Restaurant awards. In the hands of Bottura and the rest of The Magnificent Seven, modern Italian cuisine has its rightful place on the world stage.