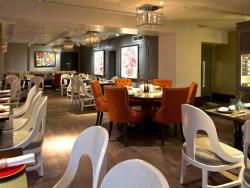 Hotel dining needn't be horrid dining. With his quill all sharpened to delived a caustic put down, Tom Leahy finds that the Caxton Grill actually didn't fit the cliche and could actually be a contender
There are certain unwritten rules to which every restaurant review must adhere: name dropping; witty digressions into subjects unrelated; and the use of flowery adjectives are just three of them. Another from the top of the list is that the reviewer must always be vaguely snotty about hotel dining rooms. You'll have read plenty of reviews which reference the'bland internationalism' of the décor; how the menu caters to the anonymity of the solo business traveler; or that the service is'starchily formal'.
With every cliché there is a grain of truth lurking somewhere at the bottom of the reviewer's inkwell. But just as every new opening east of St Paul's is labelled as a hipster hang out, and anywhere in Mayfair is choked to the gunnels with our hedge fund overlords, there is a fair degree of laziness to this kind of writing.
Thus, my own slight digression brings me neatly on to the Caxton Grill, the subject of today's review. Because the Caxton is a restaurant attached to a hotel; specifically the St Ermin's in St James's.
What, therefore, am I to do? Adhere to the guild of restaurant reviewers' unspoken rules and be rude because I saw a couple of solo diners reading the FT, or assess the thing on its merits? Fair minded chap that I am, it is going to have to be the latter. As much as I would enjoy writing something rude and unsubstantiated, the editor is stickler for honesty.
In any case, if you approach the Caxton from certain angles you might never need know it is in a hotel. I found my date loitering outside and we gained entry via the restaurant's own entrance off Caxton (!) Street. This necessitated a longish walk before entering the restaurant at the wrong end. Consequently we had to be escorted past our fellow diners, before picking up a couple of menus at the front desk and backtracking to our table. Winner might not have liked this double-take, but it didn't concern me!
One of the chief attractions of the Caxton Grill is their charcoal Josper Oven: an enclosed charcoal grill or oven, which aficionados swear is the way to cook steaks. However, new head chef Adam Handling has received the odd award and trained under a couple of big names, so the menu isn't just a collection of grilled meat, and there was no little amount of skill on display by those at the stoves.
A starter of duck parfait arrived as three immaculate discs of duck mousse of varying flavour – plain, gingerbread and blackberry – with a smear of blackberry puree and some gingerbread crisps. Having arrived, Great British Menu style, on a wooden board, it was an autumnal looking, and tasting, dish. But with the rain tumbling down outside and the weather beginning to resemble one of George RR Martin's endless winters from Game of Thrones, I welcomed it with open arms.
The other starter of pickled crab with watermelon and avocado was more of a summer's day at the seaside than autumnal tramp through the woods, and the delicate crab chimed well with the sweetness and acidity of the watermelon.
Evidently it was necessary to try a piece of meat cooked in the Josper, and for round two I was presented with a rib-eye steak the size of my hand and a pot of béarnaise sauce for dipping. Alas the steak was more medium rather than medium-rare, having had a minute longer over the charcoal than I would have liked. Nevertheless the quality of the meat was good, it had been well rested and the Josper had imparted some of that famed smokiness.
Across the table was probably the star of the show: a couple of pieces of muntjac deer that had spent a relatively lengthy amount of time in a water bath and emerged meltingly tender. Along with a piece of plum, some rarely seen marrow, and a dab of gravy it made for a superior mouthful (which was all I was allowed!).
After two rich courses, I should have realised that bread and butter pudding with banana and peanut ice-cream was not the dessert required to cleanse the palate, and it went down fitfully and not without a fight! Having chosen dishes slightly less likely to necessitate a course of statins, the date disposed of a chocolate orange mousse so rich and dense it would have given the cast of TOWIEa run for their money.
It is clear that the chef at the Caxton knows his pots from his pans and there was plenty to enjoy here. They did make us wait slightly longer than the norm between the courses, but the service was charming enough to make up for it.
Dinner for two including wine will set you back at least a £100 if you splash out the full three courses. In a city where there are more places to eat out than there are days in the year, you have to offer something pretty special for that money to ensure you attract more than just the passing trade. However, the kitchen is on the right track and I suspect the Caxton will do well from hotel guests and lunchers from the nearby offices, who will benefit from some very accomplished cooking right on their doorstep.