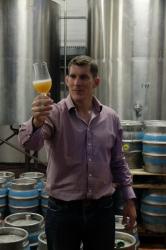 Showing off its new Jugged Hare pale ale, Battersea brewery Sambrook's gives John Oates some tips on combining food and beer.
Given the capital's current love-affair with hops, it's hard to believe that London was something of a beer wasteland when Duncan Sambrook decided to open a brewery back in 2008. Not that Londoners weren't consuming the stuff in great quantities, but the closure of Young's Wandsworth brewery in 2006 had left very few places which were actually producing beer on a commercial scale.
The timing meant that Sambrook's Brewery was at the crest of a wave of new London breweries, but while many were concentrating on fashionable pale ales made using powerful New World hops, Sambrook's followed its own path and emphasized high-quality local ingredients. "Around 99% of ingredients are sourced from within the UK," according to Duncan, "and 90% from within just 100 miles."
The brewery kicked things off with Wandle, a best bitter named after the river which runs close to the Battersea brewery, and followed it up a year later with a maltier and stronger premium ale called Junction. They did eventually succumb to the pale ale mania, though, with Pumphouse Pale Ale. It's a rounded affair, zesty but relatively restrained in its use of hops (some of which do come from New Zealand) compared to the punchier products of places like the London Fields or Kernel breweries.
Sambrook's latest beer, and the reason for my recent visit to the brewery, is another pale ale called Jugged Hare; it has similar characteristics to the Pumphouse, with hints of spice to its light citrus flavor. A co-creation with ETM Group, which operates ten pubs around the capital, it's available in most of their establishments either in bottles or on draught.
After an engaging tour of the brewery led by Duncan himself – something which you can book through the Sambrooks website  – we decamped to the Cadogan Arms in Chelsea to try some of Sambrook's beers as the accompaniment to a meal.
Matching beer with food is fashionable at the moment, and it's easy enough to see why it appeals since it's generally easier to get right than matching wine to food. As a general rule less malty beers – such as Jugged Hare and other pale ales – are great with more delicate flavours as they don't overwhelm them, but they're versatile enough to be paired with curries too. In our case we tried the new brew with a honey roast salmon and smoked mackerel rillette, served with confit lemon, beetroot and soda bread. This was assured cooking, enhanced by the bitterness of the Jugged Hare.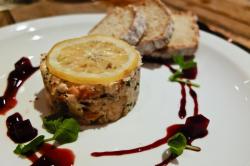 Darker, maltier beers such as Junction stand up well to more robust flavours like those in our main course of roast rack of Hebridean lamb, served with a small braised shoulder shepherd's pie, sautéed asparagus and sea grass. This for me was the highlight of the meal, with an anchovy jus really bringing out the flavour of the lamb; the shepherd's pie was satisfyingly rich. Asparagus is always tricky to match with wine, but its grassy notes went notably well with beer.
And finally, porters and stouts go with hearty food like barbecue, but also with chocolate. We were served a chocolate pudding with hot fudge sauce, toasted almonds and crème fraîche ice cream, and the richness of the Powerhouse Porter was a good pairing.
So what next for Sambrook after these forays into pale ales? "We're going to offer a series of seasonal ales," Duncan told me. "Starting with Lavender Hill, a honey beer." And just to give you a preview: I've already tried it, back when it was a Nicholson's exclusive, and the lavender honey notes work brilliantly. It looks like doing things their own way is working pretty well for Sambrook's.