Making simple meals taste great is all about the quality of the ingredients. With that maxim in mind we tasted Italian products from Lupetta
We love a parcel delivery, especially if unexpected, so when a bag came from Lupetta we were all over it.
The company makes the very valid point that Italy is comprised of twenty regions and anyone who has been around the boot knows that each region is fiercely proud of its own produce and somewhat dismissive of the others.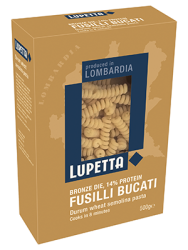 So Lupetta decided to search all the regions for their range. The pasta comes from Lombardy and each shape is made from 100% Italian, Kronos wheat semolina which gives a bright yellow colour and a higher protein level than standard durum wheat pasta. Fusilli Bucati are corkscrew pasta shapes with holes in them and we found they uncoiled when cooked to look like a bowl of cheerful bedsprings, holding their texture well and snagging up the sauce perfectly with those luscious curves.
We made the sauce using part of a pot of Calabrian Nduja that was wonderfully porky, spicy and dangerously irresistible straight from the jar.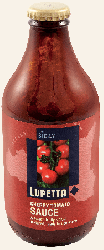 When mixed with the cutely bottled Sicilian cherry tomato sauce it made a fast, fantastic supper dish. The leftover paste we spread on bruschetta the next day, fabulously fiery like a good rillettes pate but with an attitude.
On reflection though it was probably a waste to use the delicate tomato sauce with such an assertive pork mix, instead we should have used the San Marzano Tomatoes D.O.P.* produced in a small region around Mount Vesuvius near Naples. These were so much better than an ordinary tin of tomatoes, as evidenced by the £1.23 a tin price tag. But if you're going to make an outstanding Bolognese, then saving 90p or so is not the way.

Also in the bag was a jar semi dried Sicilian cherry tomatoes, again very addictive eaten straight from the jar but those that escaped that particular fate ended up strewn through a salad and eaten with a briskly grilled steak. The very last ones we ate with some cheddar, a good combo.
Lupetta also do a mini bottle of extra virgin olive oil, this is a good idea as olive oil will go off slowly once opened so unless you have a serious olive oil habit, and deep pockets, a small bottle is used up before it gets a chance to degrade, whereas a big bottle could sit around for weeks. Lupetta Extra Virgin Olive Oil is a mix of 50% Sicilian extra virgin olive oil and 50% Puglian extra virgin olive oil with good grassy, fruity notes followed by a hint of pepperiness that doesn't catch the back of the throat like some do.

Balsamic vinegar is a contentious subject; most of what is sold may come from Modena but is not what the experts would call the real deal. That's because the real deal is ruinously expensive. Lupetta's I would say is perfectly palatable if a little sharp, certainly affordable, and so can be used on a regular basis, but please don't drizzle it in patterns even if they still do it on Masterchef.
Overall, pretty impressive and you can buy all the products, and there are many more, on the Lupetta website.