Danielle Woodward discovers delectable Parisian delicacies at Pierre Hermé's Covent Garden store.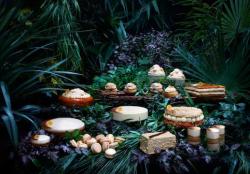 Arriving at Pierre Hermé's bijou shop on Monmouth Street, we were greeted with a tantalising scent of sweet baked treasures, and the sight of colourful, jewel-like macarons on display, piled up in artfully styled mountains. We were here to taste the new flavour collection, Fetish Infiniment Vanille, with all the fanfare of a haute-couture show.
Being a fan of the delicate French cake, having discovered Ladurée on a trip to Paris, I was familiar with classic macaron flavours such as rose, pistachio and lemon, but Pierre Hermé takes it to another level with his sublime signature flavour of rose, lychee and raspberry Ispahan, and the numerous other seasonal flavours that sound intriguing, such as orange and basil flower and chocolate and passion fruit. There are also delicious chocolates and beautifully packaged teas on offer, as well as cakes – and lucky us, we got to try some.
First, we looked at three different vanilla pods from Madagascar, Tahiti and Mexico, comparing their scent and the texture – Hermé's signature 'house' fragrance is made up of vanilla from these three locations. To be honest, I couldn't tell them apart; maybe one pod had a more pungent vanilla scent than the other… but I did feel the beginning of a cold coming on, so I'll put it down to that rather than my lack of smelling expertise.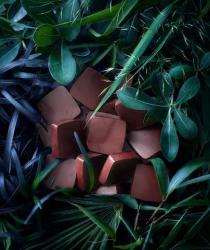 Then we were allowed to try a macaron – not a 'macaroon', the manageress emphatically told us. Macaroons are 'coconut English creations', nothing like the French macaron, which is a work of art, she said, with a roll of her Rs and a flourish of Gallic gesticulation. Right, then.
Yes, it was delicious, no doubt about it. From the perfect look of the macaron to the heavenly scent and the first crunch of the outer crispy shell, you know your taste buds are in for a treat. When you experience the soft layer underneath, and the rich cream that sandwiches it together, you realise this is no ordinary cake and you appreciate the time and skill that has gone into making this gorgeous creation. You are left with a soft and lasting aftertaste of creamy vanilla, and it's rich enough that one little macaron is all you want – for the moment.
Vanilla is often thought of as safe and dull, but as Hermé shows, it can also be indulgent and luxurious. Vanilla is actually the second most expensive spice after saffron, we were told.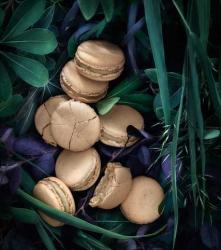 We then tried the new Cake Infiniment Vanille with a delicious flavour combination of vanilla and almond and coated with white chocolate – at £19 though, you'd want to save it for a very special occasion.  Next came a rich and smooth Bonbon Chocolat Infiniment Vanille, a ganache made with 64% cocoa solids with its rich flavour enhanced by the vanilla notes.
Then came a buttery shortbread with kick of salt that cut through the sweetness of the vanilla – the perfect accompaniment to a cup of tea. And right on cue, we were offered tea. But this was no ordinary cuppa, we sipped vanilla-infused green tea, that was absolutely delicious and smooth. As a fan of flavoured green tea, I often find them a bit powdery, but this loose-leaf sencha was light and satisfying with a naturally sweet depth.
I left the shop more knowledgable about vanilla and the time and skill it takes to make these delicious macarons – I better practise rolling those Rs.
The Pierre Hermé Fetish Infiniment Vanille collection is available now instore and online until 19th April.  For more information, visit www.pierreherme.com