Hunstrete House, Pensford,Nr Bath, BS39 4NS  www.thepighotel.com/
A wintry Sunday afternoon provides a beautiful backdrop for lunch in the Somerset countryside but The Pig is worth a visit any time of year, reckons William Morris
The winter sun hovers above the Mendip hills in front of us for barely a few hours. It casts an almost white light over a field of deer, between some trees, across a dew-brushed lawn and into the glass extension of the Georgian country house in which we sit.
There's a boy clad in a mix of tweed and Barbour languidly kicking a rugby ball into arcs from one side of the grass to the other via a Chelsea-booted right foot. His breath condenses in the cold air like that of the braver deer we can see near the fence beyond him.
This is our view from The Pig in Somerset,'a restaurant with rooms' that prides itself on its kitchen garden and locally sourced food. The grandeur of Hunstrete House, a property The Pig group bought in 2013, combines with a picturesque rural setting to make the estate feel much more removed from nearby Bath and Bristol than it actually is.
I glance down from the deer mooching around outside to one of their now-deceased playmates carpaccioed on the plate in front of me. Another silky, maroon slice melts in my mouth. Guilt disappears with it.
Around us, waiting staff wear aprons, Converse trainers and youth; a casual, hip uniform. The perimeter of the greenhouse-dining room is lined with wooden pallets containing potted herbs, lettuces and small vegetables. This is idyllic, aspirational,'relaxed farmhouse living' for weary city-dwellers, and it's expertly executed. Well-heeled families and young couples obviously agree – they occupy all the room's wooden tables.
There's a lot to lust after on the snacks and small plates section of the menu. Most tempting was'hockeggs and Colman's', which arrived before our starters of chicken broth and venison.
As the name suggests, the sausage meat of a scotch egg is replaced by shredded ham hock, which encases a runny, golden-yolked egg. They're served warm, with a mustard-infused dressing that's almost as thick as mayonnaise supplying a gentle kick. A crisp shell mixes with the softer textures of ham, egg and dressing.
Very occasionally, a thing is so good it's bewildering. I found myself looking round the room, eyes wide, slightly confused, as I ate that hockegg. If The Pig were in a location that made frequent visits feasible, I'd find it hard not to drop in for a plate of them on a daily basis.
Two slabs of tender, slow-cooked lamb shoulder studded with four pieces of butter-soaked gnocchi is my main course. Kale lies beneath, and the gnocchi makes an irreproachable mop for a light jus made from the meat's cooking juices. Sometimes life is very pleasant.
J has Kentucky fried rabbit, which, as the name suggests, is KFC for those with money and tastebuds. The auburn coating tastes of real spice rather than synthetic chemicals. Most of the colonel's dedicated regulars are unlikely to be familiar with the slightly sweeter taste of rabbit either.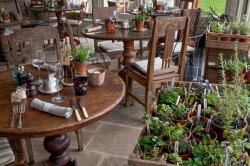 The restaurant's extensive wine list is excellent and many of the wines on it are available by the glass. A beautiful Pulenta Malbec is velvety smooth and superbly balanced; it makes me look at the glass and wish I were small enough to dive in off the rim. J's pinot noir is just as good.
It would be easy to be cynical about The Pig because it leans so heavily on clichéd ideas of provenance, self-sufficiency and seasonality. Only heavy sedation would prevent an eye-roll at a selection of dishes headed with the words'LITERALLY PICKED TODAY'. Mismatched'vintage' cutlery and sides served in flowerpots also risk seeming gimmicky.
But there are occasions when you're forced to recognise that style does sometimes have substance. The ethos of The Pig doesn't feel like a vacuous marketing ploy; the produce and the way it's put to elegant use in the kitchen are both impressive. Talking about the locality of your food is not mere bluster if you fill in a swimming pool to create more growing space and seek out producers that are rarely more than 25 miles away.
What's more, The Pig feels relaxing and unassuming despite a majestic building that could very easily lend itself to a conservative, stuffy restaurant. Our starters were £6 each, with mains at around £17, so prices are reasonable too.
The Pig is a place that seduces you with its food and surroundings, a place that makes you want to avoid a return to reality by staying even when you hadn't planned to. I know this because after our post-lunch afternoon tea, taken by an open fire, we asked for a room.