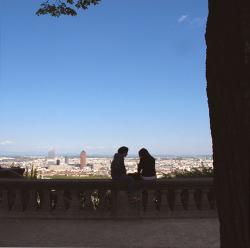 Celebrating the new direct train line from St. Pancras to Lyon, Alan Kingsbury travels by rail to discover some of the pleasures of France's'Gastronomic City'.
It's quite astonishing how smooth the train journey is to Lyon; smooth and fast.
One moment I'm sipping an orange juice at St. Pancras International and the next I'm basking in the extraordinary view over Lyon from the hill of Notre Dame de Fourvière.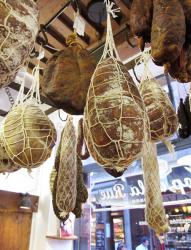 It's not just warmer down here in the south, the air has a different chemistry; it's alive with the promise of food!
Countless restaurants are hidden amongst the fascinating urban topography, spread as it is over and between two monumental hills and two broad rivers.
Bouchons here we come!
Lyon is famed for its very own line in traditional cosy restaurants, the 'Bouchons', and frankly, I can't wait to get stuck in.
Heading though the mediaeval streets of the old town, it's hard not to be distracted by the wall to wall restaurants, food shops and wine merchants; but I'm looking for my first meal at the famous Bouchon, Daniel et Denise hidden off the main square.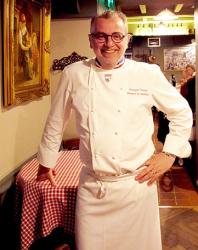 I'm greeted by the smiling proprietor and chef, Joseph Viola.
He's dapper, he's confident and, as président of the association Les Bouchons Lyonnais, he's keen to serve me with some of the heritage dishes at the heart of Bouchon culture.
Cuisine Lyonnaise
A mixed 'paté en croute' of foie gras and veal sets the tone for a meal based on local produce. This includes sliced 'andouilles', sausages which do not neccessarily find favour outside Lyon but are definitely a feature here.
Then the famous 'Quennelle Lyonnaise' is served.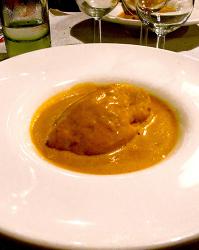 No, it's not the most photogenic of dishes but this delicately textured soufflé in a rich, thick fish sauce epitomises the generous cuisine of the city.
Made with pike fish from the lakelands to the north-east of Lyon, the quenelle succeeds in being light on the palate and deceptively filling at the same time.
There are 21 certified Bouchon restaurants defending the traditions of Cuisine Lyonnaise, some have glorious names like Les Culottes Longues, Les Fines Gueules and La Tête de Lard.
Historic Lyon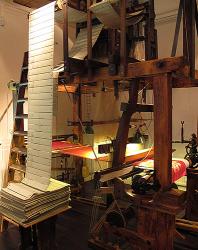 Characterful districts forged by development throughout the centuries make Lyon a historic as well as a culinary feast.
It's day two of my stay and I ascend the steep hill up to the now trendy Croix-Rousse district, once the hub of the European silk weaving industry.
Today the clatter of Jacquard looms is no longer to be heard from the tall silk weaver's houses but the amazing machine can be seen in all its glory at the small Maison des Canuts museum.
From the high vantage point of Croix-Rousse I take in a second breathtaking view over the city before heading through the back steets to Restaurant Le Grain de Folie for lunch.
With an intimate and classically eclectic interior, this place is a somewhat peaceful haven from the city's bustle.
I choose a simple dish with a descriptively long title in the Lyonnais manner; "Ragoût de lentilles aux lardons fumés aux queues d'écrevisses et lamelles d'encornets" and wash it down with a glass of good Mâcon Fuissé.
'Lamelles d'encornets' by the way are squid wings; and another thing I learn is that the word 'cosy' can be used in French too.
I must say, I'm enjoying Lyon.
Trams and Trabouls
It's easy to work up an appetite out and about in Lyon. The city is extensive yet substantially walkable.
The historic network of old trabouls (the local name for the secret interconnecting passageways) is worth investigating and there's an efficient system of both trams and metro trains to make exploration easy. 
The many cultural highlights include the Musée des Beaux-Arts for a delightful collection of impressionist paintings, the Musée Lumière which gives a fascinating insight into the earliest days of film making and, for those with the energy, ultra-cool nightclubbing at the rooftop Le Sucre venue.
Bistronomic Bliss
For dinner I'm in the stylish M Restaurant, a new establishment with a sophisticated yet relaxed atmosphere.
Here the experienced Lyonnais Chef Julien Gautier proposes a contemporary 'bistronomic' menu with subtle twists on traditional dishes.
The regional wines on offer are well chosen and temptingly displayed on sleek open racks.
A delicate and fragrant 'soup de maïs' is excellent with a dry and nutty white Côtes du Rhône, while the main of 'large cannelloni with shredded beef' is complimentetd by a taught and light bodied Côte Chalonnaise Pinot Noir.
Into the 21st Century
One of the most astonishing of all Lyon's historical developments is the newest.
The radically modern 'Confluences' district is sited at the southern end of the city where the Rhône and Saône rivers meet.
Many of Europe's top architects are working here to create a living vision of a world to come where commercial and residential 'wow-factor' is woven into surronding waterscapes.
Audaciously designed restaurants are naturally part of the scene.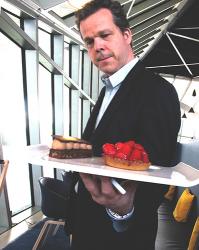 La Brasserie des Confluences is an uncompromisingly stark creation where angular steel, glass and surrounding water seek to distrupt every notion of conventional interior space.
The food however is the epitome of serene, considered refinement.
Meticulous attention is brought to the natural flavours of fine quality ingredients as evidenced by my sea bream served simply with tomato and orange and yellow carrots.
A particular feature here are the superb tart desserts whose indulgent appearance belie a surprising freshness on the palate.
Souvenir Sausage
I'd prefer to stay here in Lyon but my train is booked. There's one last thing I need to do and that's to acquire a whole 'Saucisson de Lyon' to enjoy at home.
I need to go the superlative covered market Les Halles de Lyon – Paul Bocuse, where only the finest produce is sold, and track down the famous Charcuterie Sibilia.
18 euros seals the deal and I manage to avoid the massive temptation to overspend before making my way to the train station.
Au Revoir
Gliding back through the French countryside at high speed I know that it's a matter of 'when' I return to Lyon by train and not 'if'.
Somehow the train is an antidote to the disconnecting experience of air travel; and Lyon itself an antidote to the crowed metropolises that we usually flock to.  
There is an awful lot of eating to be done in this cultured yet down to earth city; and there will always be a table waiting.
___________________________________________________________________
Alan travelled to Lyon as a guest of Voyages-sncf, experts who offer a wide range of rail tickets to Europe.
Fares from London to Lyon on Eurostar's new direct Lyon/South of France service start at £89 standard class return per person. Or combine your trip with other destinations : Fares from London to Lyon via either Lille or Paris start at £111 standard class return,.
Online – Voyages-sncf.com  Phone – 0844 848 5 848. Voyages-sncf Travel Centre, 193 Piccadilly, London, W1J 9EU.