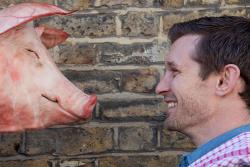 The doors of porky pop-up Oink will be thrown open on 3rd July 2015. The self-proclaimed home of Swine Dining, which will take a weekend residence on Shoreditch's Commercial Street, aims to pay culinary homage to our pot-bellied friends.
Developed by Founder, James Purdie, Oink's Swine Dining menu will curate flavours and inspiration from both home and abroad. The unique offering is designed to encourage a communal dining experience, featuring sharable starter plates and dig-in main dishes that explore the many facets of the resplendent pig.
From culinary creations of Pig's Cheek & Black Pudding Nuggets and Crispy Shredded Pig's Ear to curly-tailed classics of Pulled Pork Shoulder and Sweet & Sour glazed Chilli Ribs, Oink will deliver a truly unique pork experience, balanced by a thirst-quenching pairing menu of real ciders, craft beers and lovingly selected wines.
Oink customers will also have the option of selecting dishes from a three course set menu at £25 per head, including a welcoming Bacon Salt Infused Bloody Mary, a sharing starter plate, the main event and a classic dessert.
Purveyor of pork, James Purdie, believes that big flavours begin in the field, which is why all the pork served is lovingly reared from a friendly farm just 50 miles from the Oink kitchen.
OINK – SWINE DINING, FRIDAYS & SATURDAYS (7.30PM – CLOSE) CRISIS CAFE, 66 COMMERCIAL ST, LONDON, E1 6LT
RESERVATIONS: WWW.OINK-SWINEDINING.COM