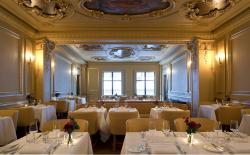 Never one for board games usually, Nick finds the Domino Effect is worth getting to the table for.
Ah the Oscar Wilde Bar, formerly the Grill Room, there's more bling here than a rapper coming out of Argos. Somehow it isn't really tasteless though as there is a kind of tongue in cheek feel to it, it's very old, and it's hard to be rude about a room that has seen so many great figures eat and drink and pose in the reflection of its large mirrors.
We're having a few nibbles here before heading to the Domino Room where we'll be eating a menu from the combined talents of Andrew Turner, Executive head chef of the Hotel Cafe Royal and Aurelio Morales from Spain who has worked with Ferran Adrià at El Bulli, and Paco Perez at Miramar and now is at Ramses restaurant in Madrid
The'nibbles' bode well, a cocktail made with Veuve Clicquot Rich, Belvedere Pure and oolong Orange Blossom cordial is a fine concoction and goes well with simple, excellent Iberico Ham while Aurelio's smoked sturgeon white chocolate donut is a quite remarkable canapé, a taste-bud shattering blast of super savoury and super sweet.
Upstairs a little later in the Domino room we await the first of seven courses with some anticipation and the first certainly has a wow factor – it's gazpacho in a kind of tall flute with a built in straw. Sharply acidic in a good way and redolent of the very essence of tomato, the gazpacho shines like a stoplight. Alongside comes confit salmon, butter soft and subtle.
It was good but not as good as a glass of watercress chlorophyll layered with quails egg and a base of manchego cheese and crispy lamb bacon, which comes next. Here plunging a spoon down to the depths you're rewarded with a medley of flavours that should compete but instead go arm in arm like two old friends heading off to the theatre.
They call the giant prawns that we're served next Carabineros because, apparently, their deep red colour matches that of the Spanish border guards' uniforms. The meat has been enrobed in pasta to form a cannelono and the waiter tongs over a shrimp head to squeeze the juice out over my plate. Too much information? Well, it's claimed to be the best bit and it's certainly an intense sea-flavour that lifts the dish up,
Turbot citrus with fennel and tarragon is gorgeous, the firm fleshed fish cooked superbly well with just a hint of searing to the outside. The lemon juice and herbs a subtle breath that accentuate the fish's flavour but do not swamp it.
Not so sure about the pork belly that follows, undoubtedly from a pedigree pig is it a bit too gelatinous for me with the skin being very hard to cut through. Call me old-fashioned but I like my pork skin friable.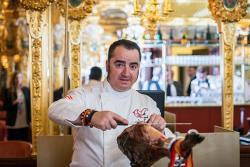 Some El Bulli shenanigans happen with dessert; dried ice comes into play in dramatic fashion as the chefs use it to freeze pearls of Arbequinaolive oil that are dusted over the chocolate. The effect on the taste buds is challenging and playful and for someone who is not over fond of chocolate, i.e.me, it brings out the truth that chocolate is not a sweet treat but a complex natural product with more layers and textures than is always apparent.
It's been a fun evening, although it has lasted a long while and I must run to get a tube home before the system shuts down. Cafe Royal and Andrew Turner have to be commended for running these Domino Effect seasons, a chance for Londoners to see a bit more of what's going on outside these shores and how a style of gastronomy, now a little derided by the very people who once promoted it, is still capable of delivering pleasure and confusion in equally entertaining measure.
The latest Domino Effect menu will be served from Thursday 11 June until Saturday 11 July 2015 from £85. To make a reservation please call 0207 406 3371 or email thedominoeffect@clubcaferoyal.com.