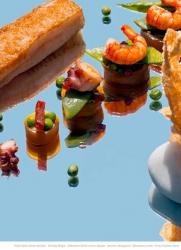 By Nicolas Magie
A recipe from the marvellous St James Hotel in Bordeaux, read our review.
Ingredients for 4 people
Sole
4 pieces of 130 g of sole fillets
30 g of salted butter
Leaves and flowers of lemon tree
Mashed Paella
50 g of diced chorizo
4 chopped onions
2 garlic heads
5 g of saffron
200 g of Arborio rice
2 liters of mussels juice
Olive oil
Garnish
100 pieces of mussels
100 pieces of prawns 20/30
2kg of peas
1kg of new peas
1kg of green beans
Rice crisps
320 g of long rice
1liter of water
20 g paprika
Crispy puffed rice
100 g of puffed rice
20 g of dried tomato powder Dried tomato powder 20gr
2 g of espelette pepper
2 g of powdered saffron
Preparation
Mashed paella
Make the chopped onions and garlic sweat with a little bit of olive oil and add the chorizo and saffron.
Make pearled rice and moisten it with the juice. Cook it for half an hour but check it regularly so it does not stick.
Drain it then mix it and save the preparation and save the preparation.
Garnish
Cook the mussels marinara and take care to keep the juice for the previous preparation.
Peel the prawns and put them on a plate. Cook them for 5 minutes at 56° and save them in the fridge.
Boil the peas, new peas and green beans and make sure they stay crunchy.
Rice crisps
Cook rice in water with paprika over low heat for about an hour then mix it in the blender. Display the mashed rice on greaseproof paper and let it dry during 4 hours at 50°.
Break pieces of it and fry them at 190°
Crispy puffed rice
Mix the puffed rice with tomato powder , Espelette pepper and saffron evenly .
Cooking soles
Fry your sole fillets in a hot non-stick pan with a little bit of oil then add some salted butter, leaves and flowers of lemon tree.
Sprinkle generously to keep them "rosé"
Draw a nice line of mashed paella then display a spoon of crispy rice and hot vegetables. Arrange the prawns and warm mussels and gently place the crispy puffed rice and finally your sole fillets.