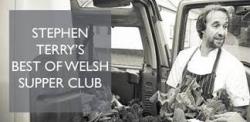 Peyton and Byrne are celebrating Welsh provenance with this Summer Supper Club, designed and hosted by expert chef Stephen Terry and Oliver Peyton OBE at one of London's most verdant locations, Inn The Park.
Stephen Terry is one of Wales' most pre-eminent chefs, and has helped shape many Michelin starred restaurants throughout his career. His innovative style of cooking was gained from his extensive travels and experience in some of the most famous kitchens in London.
The Summer Supper Club menu includes a welcome glass of sparkling wine from Ancre Hill Estates and focuses on Stephen's local area of south Wales where he cultivates important personal relationships with his incredible passionate suppliers to ensure that he can always track down the finest Welsh produce.
Guests can book their space here
First Course
West Wales Coracle caught Sewin, smoked and beetroot cured with fried laverbread and oatcakes with wood sorel and Neals Yard creamery creme fraiche
Second CourseOrganic grilled mixed new poatoes and radishes with bitter onions and Gentleman's Relish
Third CourseGrilled, marinated Pen y Wyrlod lamb and faggot with cous cous, aubergine, lemon pickle and yogurt
Fourth CourseSummer pudding with Alex Gooch's sourdough and cheesecake sauce
Fifth CourseHafod Welsh organic cheddar, Boksburg Blue, Perl Wen, Caws Cenarth Caerphilly and Neals Yard Creamery Ragston goats cheese with Alex Gooch's fruit and rye bread