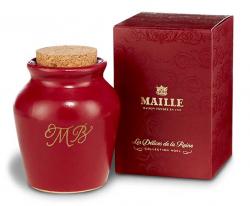 Whether you're looking for a unique gift for the foodie who has everything, or something to impress the host of your next festive party, look no further than La Maison Maille.
Available exclusively throughout the Christmas period, visitors to the Maille Boutique in London's Piccadilly, can purchase their own monogrammed stoneware jar; a memorable and personalised gift for discerning food lovers. 
The monogrammed jars will be available to purchase with mustard served freshly from Maille's mustard pumps including'Maille Chablis mustard with Black Truffle'. Available strictly during the truffle season only, this special blend containing Chablis, the renowned white wine of the Burgundy region, and black truffle from Périgord. We tried some with steak and it was truly delicious and decadent
The Maille calligrapher will be in-store on Mondays and Tuesdays throughout December, and Maille Boutique staff will be on hand to take orders throughout the week, which can be delivered or collected in store. 
The Maille Monogramming service will be priced starting at £21 for a 125ml jar, with a home delivery option available on request. A monogrammed'Maille Chablis mustard with Black Truffles' is £34 for 125ml.
Situated at 174 Piccadilly, London, La Maison Maille Boutique is a destination for foodies with over 60 variants of mustards and vinegars. 
Be a memorable guest for the right reason this Christmas. 
Choose from the full gifting range at www.maille.co.uk