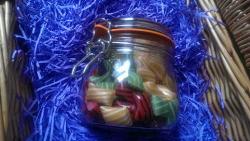 Do you sometimes look up on Xmas day and wonder what those folks in the aeroplanes are doing? Flying somewhere must be the oddest thing you can do in the 25th although, feasibly, while it may be Xmas day down below it may have passed (or be arriving) where you've come from, or where you're going. It rather makes the brain hurt thinking about it to be honest.
Well the sweeties at Heathrow have come up with something to ease the pain.With 100,178 passengers expected to travel through the airport on Christmas Day, festive flyers will be treated to turkey, sage and onion stuffing and Christmas pudding in the form of three specially created boiled sweets.
They're the first airport in the world to offer its passengers a festive twist on this tradition with Christmas dinner sweets that can be enjoyed at 30,000 feet.
Specially developed alongside one of the UK's leading independent confectionary creators; the sweets, aptly named Boarding Bon Bons, have been designed to recreate the original flavours. The Christmas pudding has hints of brandy butter, raisin and Christmas spices while the turkey and sage and onion stuffing sweets taste surprisingly like a real Christmas meal.
Normand Boivin, Chief Operating Officer at Heathrow said, "We tried a number of different flavour combinations, including cranberry sauce, mince pies and honey glazed carrots, but found that turkey, sage and onion stuffing and Christmas pudding really evoked the taste and sentiment of Christmas."
Well we've been sucking them around the office and yes, the festive feeling is definitely there. A nice idea
Heathrow's Boarding Bon Bons will be handed out by the airport's Passenger Ambassadors across all five terminals this Christmas from December 24th to December 26th inclusive.