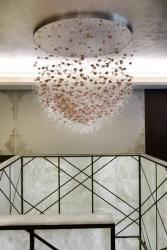 New Year's Eve, often one of the biggest and best annual anti-climaxes, is almost upon us, and you may still be wondering what to do.
Poorly attended house party, extortionate club night, soporific evening at the home of relatives or midnight hours alone with the remnants of a Cadbury selection box and Jools Holland shouting'Hootenanny'; the options are, quite literally, not endless.
Step forward Antonio Mellino, the head chef at Italian restaurant Quattro Passi in Mayfair, who's devised a seven course tasting menu to tempt you out to Monopoly's bluest square on the last day of 2014.
I must confess to approaching restaurants in this part of London with trepidation. Prices are almost invariably astronomical and not always because the quality of the food commands it but more, I assume, because the rent is at nose-bleed altitudes and celebrity diners insist on it as it keeps the riff-raff out. One of the first tweets on the restaurant's Twitter account is a photo of two members of staff standing with Edin Dzeko, which leaves me completely unmoved; he's famous for being a footballer, not for an impeccable palate.
Preconceptions put as far aside as they can be, a preview event for the NYE dinner starts in Quattro Passi's new'Private Lounge', a downstairs bar where punters will go on the actual night for'drinks and dancing' after the meal.
It's all subtle downlighting and candles, with expensive spirits on shelves behind the bar lit so they glow enticingly like bottle-shaped chunks of amber. The champagne served on arrival is excellent and we're also introduced to Mr Mellino himself, who is friendly and enthusiastic.
Dinner is up in the dining room on the ground floor, which is more traditional and formal. Like a lot of places in Mayfair, it's plush and refined, if a bit beige, and they play bizarre, jazz-inflected muzak versions of pop songs to their diners. Happily, our attention is quickly turned to an impressive selection of breads and our first course slightly afterwards, a carpaccio of prawns with blueberry sauce.
Prawn carpaccio is an interesting and intense prawn hit, which definitely needs the unusual sauce to cut through the fishy richness. When the next course of potato veloutee with a poached quails egg and white truffle arrives, however, you realise that you may have to relinquish the notion of'cutting through' the richness and embrace it instead.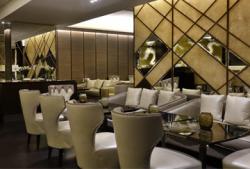 The original Quattro Passi restaurant owned by Mellino on the Amalfi Coast has been awarded two Michelin stars and an important part of this success has been the chef's signature risotto. Our third course is a Sorrento lemon zest version, which perfectly demonstrates the subjective nature of food; a couple of us find it cloying and sweet, while others desperately try to take the glaze off their plates with their forks when it's finished. Whatever you think of the flavour, it's undoubtedly a perfectly cooked risotto.
The next three dishes are a box-ticking exercise in lavish ingredients. We have pasta with artichoke hearts and lobster, a fillet of Sea Bream, and fillet of beef, all of which are well executed. On the whole, the food is traditional rather than innovative or adventurous but it's good nonetheless.
A pudding of soft sponge roll with Chantilly, raspberry coulis and pistachio crumble sounds like something from Lloyd Grossman-era Masterchef but it's actually one of the night's best dishes. With the likelihood of dancing afterwards looking increasingly remote, the petit fours turn up in wooden boxes that twinkle a tune at you when you open them. As with the risotto, you'll find this touch pleasant or unbearably sweet, depending on your tastes.
With the table cleared and people making their excuses, I consider the potential bill. A glass of champagne and the seven course menu is priced at £222 per person. The wines we had with the meal were excellent but they're not included, so I imagine it'd be very easy to run up a bill of £300 or more on your own.
Whether you book for New Year's Eve boils down to whether you move in the sort of circles that can afford it. That's true of most restaurants but even more so here, where'affording it' means enjoying yourself with no concern for the very large bill that will inevitably follow.
With the right company, there is the wine, food and service to have a thoroughly enjoyable New Year's Eve at Quattro Passi. The only reason it can't be recommended more thoroughly is because you'll need to be earning closer to Edin Dzeko's weekly wage than Average Joe's in order to have a suitably indulgent night without waking up on January the 1st feeling compelled to make some very sombre resolutions.
Seven Course New Year's Eve Dinner is £222.00 per person with a glass of Champagne on arrival.