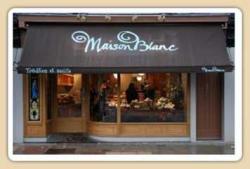 My girlfriend tells me that when I talk about food, my eyes brighten and I speak noticeably louder. A bit like Father Jack, she says, when he ponders Drink! Feck! or Girls! I can't say that I had ever noticed the trait in myself, thinking myself more debonair than manic. But despite having my carefully crafted self-image cruelly obliterated, I was pleased to know that there is a physical manifestation of the passion I feel when it comes to my favourite subject.
Now, when I speak with other chefs, I amuse myself by looking out for their tell-tale signs of passion. I have met flamboyant gesticulators, intense starers, personal space invaders and blue mouthed swearers. As a general rule of thumb though, I have found that those employed in chain restaurants tend to remain glassy-eyed when talking about their jobs.  So, on a recent visit to the 30th Birthday party of Maison Blanc, a patisserie/café with 14 branches across England, I was not necessarily expecting to see any tells of passion or even any depth of knowledge from their employees. As it happens, this assumption was wrong – very wrong.
Maison Blanc's head pâtissier, Alex Gresset looks a relatively young man, but having trained at the Institut National de la Boulangerie Patisserie in Normandy and perfected his craft at the Landau restaurant at the Langham, it is immediately apparent that there is an experienced pâtissier's head on those youthful shoulders.  As he talked me through the upcoming Halloween and Christmas ranges of Maison Blanc patisserie, he did so with the genial tone of a proud father. His narrative on the processes, flavours and textures that imbue each beautifully presented item was in such minute detail that I could have reviewed his words alone. His passion was so abundant that I was not remotely surprised to discover his festive treats ranged from the very good to the exquisite.
In the exquisite category is the range of Christmas bûches (Christmas logs) which come in Praline and Dark Chocolate, Raspberry and Kalamansi and sublime Lemon and Cinnamon.  I am not typically a dessert kind of person, but these beautiful traditional French delights instantly summoned in me the sweet-toothed gourmand that normally only surfaces throughout the festivities of advent.Alex's Lemon and Cinnamon bûche is especially good. The delicate lemon cream is tightly rolled in impossibly light vanilla sponge and enveloped in golden cinnamon spiced buttercream. Cinnamon and lemon may not be an obvious marriage, but somehow the flavours combine beautifully and deliver a mouthful that whispers elegance and shouts "HO! HO! HO! MERRY CHRISTMAS!" all at the same time.
As you would expect, the Halloween goodies available throughout October rely heavily on an autumnal colour scheme and the use of ghoulish shapes.  I tend to avoid the term "to die for" but in the case of the coffin shaped spiced cheesecake it really is la phrase juste.
Outside of the festive season, the regular range of patisserie at Maison Blanc is also excellent. For a long time they have been my go-to-guys for chocolate éclairs and their lavender macaroon would be approaching the top of my confection league table, if such a table existed.