'Here at Foodepedia one of the the pressing issues of the moment is: which wine on earth do you choose if you're opting for Thai food tonight?
For foodies it's a very important subject and answers will, most likely, vary wildly depending on who you ask.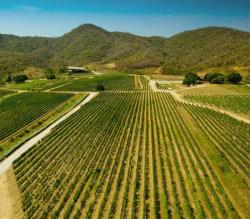 The exponential growth in the popularity of Asian food has led winemakers worldwide to scramble aboard any bandwagon that might lead to public opinion favouring their own country's product.
Chilean Viognier?  New Zealand Riesling perhaps? Well, if it's Thai food, how about wines from Thailand ?
Despite the geographical improbability of the location, The Siam Winery has been seriously involved in growing vines and making a series of domestic cuvées in Thailand for some time. With an eye on the world market, they have become adept at employing the most modern methods to ensure success at latitudes that vines are not normally accustomed to.
Today the Monsoon Valley brand of wines includes a range of styles which will be familiar to any modern wine drinker. I opened bottles of a red and a white from their premium range and cooked up a good old-fashioned Thai green curry to see how they fared.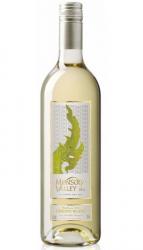 Monsoon Valley Chenin Blanc Medium Dry 2011 (£10.57 greatwinesdirect) has a fresh'green fruit' aroma and at 9.5% is low in alcohol, which is admirable in these days of over-strong wines. It is soft, fruity and quite short on the palate making it a very'easy drinking'.
Characterized very much with a'medium dry' level of sweetness, it is not unlike a German 'medium' wine in style.  This is perhaps unsurprising given that the resident winemaker at the Siam winery, the delightfully named Kathrin Puff, is a German herself who trained in her home country.
To be honest, I probably cooked my green curry a little too mild and sweet, so the sweet- on-sweet didn't really work. I think this Chenin Blanc would be better suited to a hotter, drier dish.
The red did fare much better however. Monsoon Valley Shiraz 2010 (£10.76 greatwinesdirect) is true to its varietal with an evenly balanced'New World' style. It has a good mouth-feel driven along warm, soft and spicy tannins. Vanilla, toffee and caramel flavours predominate over the medium bodied fruit; which actually worked well with the food.
So, could Monsoon Valley wines provide the answer to the perennial question of what to drink with Thai food ?  
Thai restaurants in the U.K. would seem to think so, they account for a large quota of Monsoon Valley imports.
However, there is a lot of choice to be had in this £10-11 price range and I wonder if the discerning consumer may need to feel more regional individuality in order to be won over.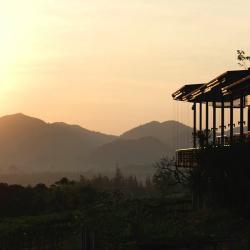 As we prepare ourselves for an influx of wines from countries such as India, China and Japan, we might need to keep the jury out a while longer to see if someone can deliver something that we could come to recognise as'Asian' distinctiveness.