Elbow room? Yes, that's lacking. But what I'm more concerned about is just where my growing gut is going to expand to. 40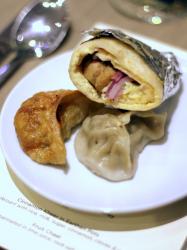 hungry diners squished into the diminutive School of Wok is all well and good, but none of us accounted for the fact Asma Khan was planning to stuff us to the very gunwales with her British-Raj themed, multi-course Indian feast.
Although it's not fully Bacchanalian- we're chastely sipping Nimbu pani- described underwhelmingly as'Indian lemonade' but tasting of much more than that affords. We Brits have been honing our national palate to be spice-receptive since the East India Company's William Hawkins landed in Surat in 1608. Four centuries on, those flavours are every bit a part of our cuisine as Worcester sauce- which, incidentally, was also Indian-inspired.
But Asma's determined to share the lesser known wonders of her native Bengal- where the British established a base in 1698 Calcutta. Churmur chaat- its onomatopoeic name owing to the sound made eating it- is similar to the papri chaat so beloved to Mumbai-ites; a cold hotchpotch of potato, chickpeas, fresh herbs, chutneys and broken puri wafers. Ever generous, she's served it both meetha- sweet, with jaggery, and namkeen- savoury, with the addictive sulphurous tang of chaat masala.
We're zipping up to the Northeast next, for the momos hailing from Darjeeling in the cool foothills of the Himalayas. These divine dumplings display a distinctly Oriental influence, with the veggie version tasting almost spring roll-like. Katti rolls- fluffy bread filled with egg or chicken are wrapped burrito-style, but taste distinctly subcontinental- again, an interesting parallel with that Mumbai  favourite, the'frankie'.   
Asma's 1940's-inspired recipes perfectly emulate the hybrid cuisine the Indian household cooks-'bobajees'- of the Raj were required to produce. Although borne of necessity, their clever re-workings of Brit classics would no doubt be considered today as the height of funky fusion – surely more than worth the fillip they often cannily elicited from their Memsahibs by exaggerating food prices on their daily shops.
One such example is the lamb chops which are disappearing with rapidity. Tender and smoky as only Indian meat can be, they nonetheless evoke that most typical British Sunday feast- the roast dinner- especially when accompanied by baked, dry-spiced cauliflower and coarsely mashed potatoes made vibrant with the uniquely Bengali touch of panch phoran.
More'classically Indian' dishes appear in the form of sweet prawn and paneer malai curries- ultra-rich from the use of the clotted cream-like malai. Asma's used juicy hunks of chicken in the chaap- dressed with a curd-enriched gravy pungent with green cardamom- dishes quite possibly straight out of the'Indian Cookery Book' penned by a'thirty-five years' resident' of the country and a regular fixture on many Raj households' bookshelves.
Chana dal is simultaneously extraneous and most necessary- it's soothing, somewhat mealy earthiness an essential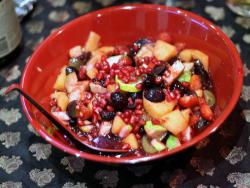 counterpoint to the riches on our plates. However much rice is served it's never enough- particularly when it's cooked into an Armenian pilau, unusually flecked with dill, demonstrating just how diverse foodways can be. Elegant Bengalis are good at their breads- from multi-layered paratha to soft, puffy loochis, and Asma's not bucked the trend with diminutive fried puris just right for swooshing through her signature tomato, prune and apricot chutney.
Puddings are understandably a triumph of the Raj kitchen- it stands to reason that a nation renowned for a galaxy of sweetmeats should have no problem selling their desserts to one collectively raised on the nursery pleasures of sticky toffee pudding, treacle tart and their ilk. Accordingly, cinnamon kheer is scooped from earthenware bowls with gusto- full of creamy ground rice, subtle spices and condensed milk comfort.
Chaat masala-spiked fruit salad is again once familiar and exceptional- a theme which has persisted all evening. The British Raj and its uncomfortable legacy may be an issue that divides opinion, but tonight we're united in resounding favour of a clever celebration of a notable cuisine. Asma's Raj cooking demonstrates the delicious results of two cultures colliding, fusing, and ultimately assimilating with great success- in the very least, in the kitchen and around the table.
The Sunday Feasts Series– and a diverse ongoing programme of events- are held at School of Wok, 61 Chandos Place, WC2N 4HG, www.schoolofwok.co.uk
For more on supperclubs, pop-ups and cookery classes, visit Edible Experiences at www.edibleexperiences.com
For further info on Asma Khan and Darjeeling Express, log onto www.darjeeling-express.com
All images courtesy of Edible Experiences.