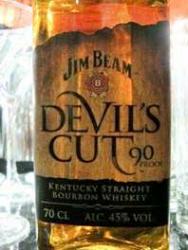 On the off-chance it has escaped your attention, I can reveal that almost all of America's once frowned upon fast foods have been rebooted and taken to heart by the hipster-foodie community.
Steak is no longer just the usual choice for truckers at Little Chef; burgers aren't just lukewarm patties in foam buns from McDonalds… standing in a 40-person queue in Fitzrovia for a hot dog, eating fried chicken in east London while drinking from rustic tumblers… OH LORD, IT'S JUST ALL TOO WONDERFUL.
Up until recently, another US classic, bourbon whisky, had an image problem similar to American junk food before it got trendy. Bourbon is said to have first been made by settlers in Kentucky using up surplus corn and it has endured a somewhat shabby reputation ever since. It has traditionally been associated with downtrodden drinkers who frequent dive bars in the Deep South, alcoholics called Billy-Ray-Bobby-Joe with ZZ Top beards, 14 children and unenviable IQs, that sort of thing.
This image was a problem for bourbon producers because young people with money to spend want glossy-brand,'premium' spirits that fit with their interests in jazzy cocktails, fashion and provenance. So, in response, more expensive, quality bourbons hit the shelves and the market for premium bourbon has grown in much the same way it did for single malt whisky.
It's presumably with this market in mind that Jim Beam has released a new bourbon called Devil's Cut, a play on the notion of the'angel's share' where some of the bourbon is lost to evaporation while ageing in the barrel.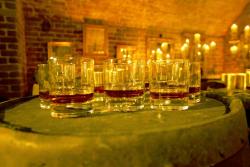 Jim Beam's master distiller Fred Noe has developed a technique for recovering whisky that has soaked into the barrel during the ageing process and Devil's Cut is six-year old Jim Beam bourbon blended with the product of this'sweating' technique. This recovered bourbon is what Noe calls the'devil's cut', supposedly the opposite to the'angel's share'.
The imagery and terminology involved with this story is a great selling point for a new bourbon, as well as the explanation for how Devil's Cut gets its taste, and Jim Beam took advantage of the creative scope by hosting a launch event led by an actor playing a long lost relative of Jacob Boehm, the company's founder.
In the crypts under what used to be St. Mark's Church in Mayfair, this demonic and slightly demented character explained, by flickering candlelight, the concept behind Devil's Cut and gave attendees the chance to taste the bourbon and three cocktails made with it.
As you would expect, Devil's Cut is a very oaky bourbon, with spicy notes and a slightly drier, less sweet finish than some of its competitors. The extra oakiness gives it more than just the vanilla and caramel you would usually expect from a bourbon, with cinnamon, butterscotch, wood and toasted flavours coming to the fore with every sip.
Devil's Cut is a complex, distinctive whisky and a perfect example of the premium bourbons that combine quality with the right image and provenance for success. If trends really are driving producers to offer higher quality products, perhaps fashion isn't such a bad thing after all.