Purveyors of meat and poultry to H.M The Queen, the folks at Donald Russell have a reputation for churning out quality mail order meat boxes and speciality pre-prepared dishes so, continuing my exploratory journey down the ready meal aisle, I looked forward to trying their new beef Moussaka.
But hang on a minute? Shouldn't the authentic Greek presentation be made with minced lamb, and not beef? Not if you're in Serbia, say the DR kitchen. Apparently their market research revealed that too many people would be put off ordering a lamb dish so instead they turned to the Balkans, deploying a mix of beef and pork mince along with the non-negotiable potatoes and aubergine to create a gluten free version of one of my favourite suppertime dishes.
Each Moussaka comes in a 440g foil tray – a generous portion for one but not enough for two to share – and can be cooked directly from frozen in just under an hour. The first thing you notice on bringing it out of the oven is the evocative Middle Eastern scent of cinnamon spice, cumin and marjoram. I really liked this but I know not everyone enjoys cinnamon, particularly in savoury food.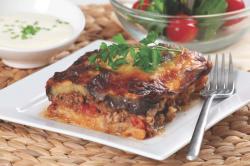 It transferred out of its box easily, holding its shape and layered structure, and filled the plate. The tomato and red onion salad I had prepared to go with it had to jostle for space but is always a good accompaniment for Moussaka, cutting through the rich béchamel sauce and freshening the palate between forkfuls.
I worried I wouldn't be able to finish it but ever the trooper I persevered and was pleased to note I didn't leave the table feeling bloated or uncomfortable. I also didn't miss the lamb as I thought I might. At £4.50 per portion I'd say this was money well spent, however as Donald Russell products are only available from the Donald Russell website, I can't see myself ordering from them piecemeal as I don't think this is a sustainable way to shop for food, but those with deep freezers and busy times ahead, such as our dear Head of State, would probably fare much better.