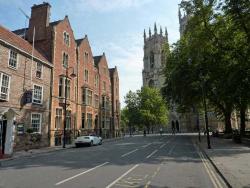 If, in a dry moment, you ever find yourself lusting after a Yorkie bar, you may recall the plaid-shirted lorry-driving "hunks" of the 1970s ads. The bar was named after its birthplace, the recently flooded northern city.
But York, still recovering from last month's rain, now has something sweeter to celebrate. With high street brands such as Smarties, Aero and Kit Kat manufactured there, the city has conched and tempered its cacao resources to offer a bit more than the usual cream teas.
I was in York as part of a Chocolate Indulgence break, launched this week to coincide with National Chocolate Week (until 14 October), which combined a hotel stay with chocolate-themed activities.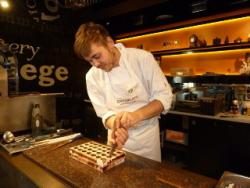 York Chocolate Story, the city's newest visitor attraction, aims to document how York can and should steal a march on all those other UK chocolate towns and cities such as Bourneville's Birmingham.
The city's history of Quakerism over the last 350 years originally encouraged abstemious tea-total families to cultivate chocolate houses in the city as an alternative to alcoholic taverns.
That's part of why York's illustrious chocolate families include not just Joseph Terry et al, of such classics as Terry's Chocolate Orange, but Thomas and Mary Ann Craven of Craven's humbugs and the Rowntrees of Kit Kat fame. In fact, the Terrys and Rowntrees were neighbours in York in the 1960s, apparently.
The York Chocolate Story is a fully interactive chocolate park in the city centre with excellent film footage (local chocolate factory girls singing eeeh bah gum etc), as well as being a repository of facts about the "food of the Gods". For instance, did you know that the Kit Kat is so popular in Japan that its 47 flavours include wasabi, black squid ink and cherry blossom?
Having zoomed up from London with East Coast Train Lines in less than two hours, we hit a bottleneck at York train station where the line of taxis can only crawl off because of a snail's pace one-way system. But York is small enough to walk around so we gaily wheeled our cases along the old Roman city walls to Dean Court Hotel which was hosting the chocolate break.
You couldn't get a better location to stay unless pealing bells and chimes unnerve you – the Victorian hostelry is right opposite the mighty York Minster and was originally built to house its clergy. Arrivals for the "indulgence" weekend better have a sweet tooth because you are immediately welcomed with a chocolate wine, a decadent red velvety, almost desert wine made from a chocolate-laced red.
The hotel puts on a special four-course Chocolate Tasting Menu to kick off your stay. We started with pan-seared scallops with white chocolate and truffle-scented risotto before going on to the main of roast loin of Yorkshire-farmed venison rolled in five spice cocoa, baby poached pears, bitter chocolate jelly, vanilla pomme puree and chilli chocolate jus.
The scallops and venison were each very well cooked, both sharp enough to retain base flavour. However, chocolate with savory is a subjective affair and while my mate loved his scallops dabbed with white chocolate, I prefer to taste scallops as fish.
Again, the roast loin worked in its spicy, only slightly chocolately marinade. But vanilla pomme puree is a love it or hate it confection – I prefer spuds to deliver salty punches to the gums while the others at the table couldn't get enough of the fondanty potato. You can finish with chocolate wine trifle, orange chocolate panna cotta and chocolate banana crumble if you're not already pasted to the curtains from your sugar rush.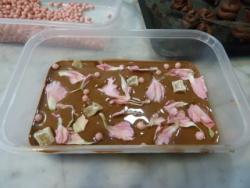 No fears though – if you're doing the weekend here, they do a pretty mean breakfast kedgeree with not a jot of chocolate for any neglected savoury tastebuds.
Terry's descendent, Noel Goddard Terry, lived in the National Trust-owned Goddard House, a beautiful oak-paneled Arts & Crafts 1920s house with four acres of sculpted grounds backing onto York Race Course. The former regional offices of the National Trust only opened up to the public this year. A visit to the house forms part of the chocolate tour where you should get an insight into the domestic lives of the illustrious choc-tycoons.
Perhaps a future choc-tycoon is former events manager and now chocolatier Sophie Jewett, owner of York Cocoa House, launched November 2011. Jewett says that growing up on a farm, miles from the nearest shop, forced her to improvise when indulging her childhood passion of chocolate-making – no fancy gadgets and moulds for her. Today, her cocoa house not only serves deluxe hot chocolates and other foods laced with the brown stuff, she runs chocolate bar and truffle making workshops in which such things as hairdryers are used to temper chocolate.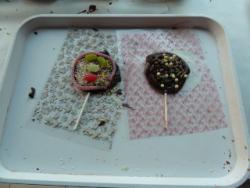 We partook in a one-hour session where we fashioned some deliciously gooey little truffles from cream, butter and chocolate buttons as well as creating hand-made chocolate bars from hairdryer-melted Belgian chocolate. And then they were set in takeaway boxes before being decorated with rose petals and all kinds of paraphernalia.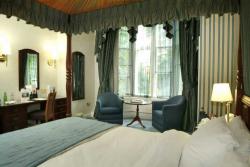 All the visits are spread over a couple of days giving you time to recuperate in your wonderful four-poster bed – if you book the deluxe room – before heading out for more engorgement. So why daydream of chocolate hunks when you can stuff a cityful into your mouth?
CHOCOLATE INDULGENCE BREAK Dates for 2012/13:
Weekends:
2012: Oct 19th/20th     Nov 23rd/24th  2013: March 1st/2nd     April 5th/6th     May 10th/11th       
Weekdays:
2012: Oct 17th/18th     Nov 14th/15th   2013: Feb 13th/14th    March 20th/21st   April 24th/25th   May 29th/30th 
Other dates can be requested but are subject to availability and minimum numbers of guests
The Dean Court Hotel Chocolate Indulgence contacts and partners
BEST WESTERN PLUS Dean Court HotelDuncombe Place  York  Yo1 7EFwww.deancourt-york.co.uk
York Cocoa House3 Blake Street York YO1 8QJwww.yorkcocoahouse.co.uk
York's Chocolate StoryKing's Square  York YO1 7LDwww.yorkschocolatestory.com
East Coast Trains www.eastcoast.co.uk
Goddards27 Tadcaster Road  York  YO24 1GGwww.nationaltrust.org.uk/goddards/
Streamline TaxisCumberland Street  York YO1 9SWwww.streamlinetaxisyork.co.uk