Fratelli La Bufala, 40 Shaftesbury Avenue, London, W1D 7ER www.fratellilabufala.eu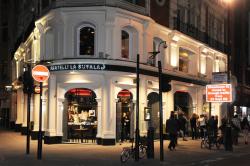 Italians love kids, and pregnant women apparently, so I wasn't worried about bringing along my second and five-month-old third cousins to this busy eaterie just off Piccadilly Circus. Within a half hour of arriving the place was heaving with parents and kids, the noise levels on a par with the traffic intersection outside, however not all of it stemming from the junior patrons.
I always feel a sense of assurance when an international restaurant, outside of its home country, is staffed by people of the same ethnicity. It would seem wrong for a duck and rice joint in Chinatown to be run by anyone other than those of Asian heritage, likewise an Italian pizzeria wanting to be taken seriously should have at least one genuine Italian in evidence.
Ninety per cent of the waiters at Fratelli La Bufala appeared to have arrived on the last Alitalia flight, with the majority giving a very convincing impression of it being their first day on the job. So assuring and discomforting at the same time, you might say.
On ordering a litre bottle of sparkling water, we were brought a small one which was opened and poured before we could say anything. No biggie, I thought. When 10 minutes later our original large bottle appeared, I questioned the mix-up with the waitress who stared at us blankly and declared herself unable to understand: "Because I'm Italian." Hmm.
In covering the ground floor and upper level dining rooms, there seemed to be more than adequate staff and yet service appeared haphazard and frenetic. The mother and grandmother behind us had to ask twice as to the whereabouts of their little girl's pizza before it arrived just as they were nearly finished with their mains. When their bill arrived, a long list of discrepancies was rattled off before the grandmother concluded, "Well, really you got just about everything wrong."
Some light relief was supplied in counting the number of traffic-stopping crashes going on around us, and that's inside the restaurant, not on Piccadilly. Trays of glasses, bottles and plates hit the deck with alarming regularity: at the final damage count it was waiters – 5, toddlers – 1.
But what of the food? Buffalo meat and mozzarella is obviously the running theme here and I am a big fan of both. Half the starters offered the cheese in fresh form, the other half fried. We opted to share a gigantic, grapefruit-sized 500g ball of the fresh mozzarella, served in the classic style with rucola, cherry tomatoes and the lightest drizzle of oil. Meaty and milky, it lacked the richness more common in smaller servings but the addition of extra oil, black pepper and chilli flakes helped it along. Listed as enough for two, it was sufficient to feed four, which would help reconcile the outlandish price tag of £18.
Mains range from substantial plates of pasta to salads, buffalo steaks and mixed grills, and a pizza menu of around 16 varietals. It took a long time to choose but, with one eye already fixed on the dessert menu, we opted to play it safe and split a pizza between us. Edged with a wide crust and topped with roasted courgette, aubergine, tomato and hard Italian cheese, it came within five minutes of being ordered and yet was only lukewarm. My cousin loved the big hunks of melt-in-the-mouth aubergine, that were neither greasy or bitter.
To finish she chose a ricotta pudding drizzled with strawberry sauce. Served piped onto a slate board, it was artsy and odd looking at the same time. The taste was intensely sugary and granular, losing the charm of the smooth, creamy soft cheese, and leaving teeth coated in a cloying, nursery whip.
My original order of pineapple with buffalo milk ice cream was declined on the grounds they had run out of ice cream. An Italian restaurant with no gelato?! Mamma mia! A generous cube of tiramisu six layers deep saved the day though – light as air with neatly balanced coffee and marsala flavours, it was the best bit of the meal.
With its sophisticated dark wood interiors and a child-friendly policy, Fratelli La Bufala goes head to head with Pizza Express but is more expensive and less consistent. While it is massive in Italy with outposts launching around the world every year, in the UK FLB is a fledgling chain with a second restaurant due to open on Villiers Street this month. After some time to bed in and a little more staff training this could be a really nice addition to the London Italian restaurant scene.