Learning With Experts claims to do what it says on the tin, so we took a trial lesson to see if our Japanese cooking game could be elevated.
Perhaps trying to make Gyoza was ambitious; these 'little parcels of deliciousness' are simple in concept but tricky in practice. It's all in the pleating, you see.

Still if anyone can get the method across via Zoom, then Michelin starred and much admired contestant on BBC TV's MasterChef, Chef Koj ( Andrew 'Koj' Kojima) is the man.

Learning with Experts claims to be the only online course to offer one-to-one feedback directly from the experts in their field. With classes of just 20 students, Learning with Experts creates a shared community rather than a rigid class structure.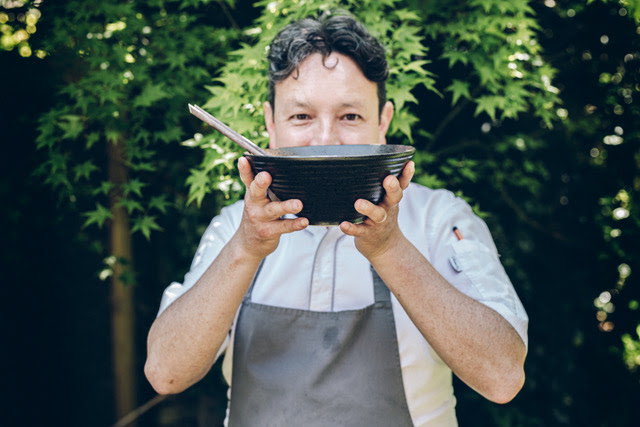 Chef Koj is the author of No Sushi, a book he wrote, as he tells all of us budding Gyoza makers, because he is half Japanese and wanted to show there was a world of Japanese cuisine beyond the cliches.
And here he is beaming out of my laptop. It should be stressed this is a press event and not exactly how a real lesson would be. Real lessons are professionally filmed with close ups etc and you watch more than you do.



After a lesson each student gets an assignment to complete either by recording a video, taking pictures or going old-skool by writing it up. The class of around twenty students is invited to compare notes and help each other. The teacher 'marks' each assignment and gives personal feedback.

Apparently the course conversion rate of online courses with LWE is 80% compared to the more usual 20%. Having tried various bass guitar courses this last year I can confirm that not all online courses work. I do now have most of the Cure hits down pat though, if anyone wants to start a covers band.

So with Chef Koj peering down from my sideboard looking like the Chaser on the TV quiz show, I began.

Basically a gyoza is a circle of dough made with flour and water which you stuff and then fry and steam. You can make your own dough, but most Japanese buy the discs ready-made, in our case from the excellent Japan Centre in London. Or try mail order.
White cabbage is shredded and salted and left to lose moisture before being wrung out dry and mixed with pork mince, spring onions, ginger and garlic. This is the easy bit and Chef Koj kept us at it and was able to examine close ups to see how we were doing.


Making the gyoza was harder, a video by Chef Koj helped us visualise what to do, it's always better to see than read, and by the fifth one we were getting better while still not achieving the classic pleated elegance.

Gyoza actually originated in China where they are called jiaozi but have been embraced by the Japanese who cook them a bit differently.

The gyoza are first fried on their flat base, to brown and crisp, and then some water is put in and the lid clamped on so they steam for a few minutes cooking both the filling and the case.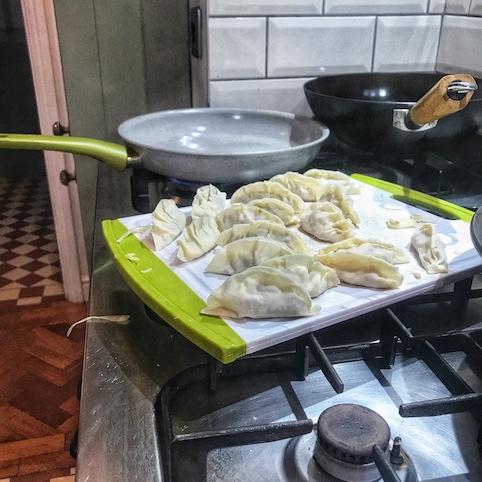 A quick shake and they come free ready to be dished up with a dipping sauce made of rice vinegar, sesame oil, soy sauce and a dusting of the dangerously hot and addictive shichimi togarashi made from sesame seeds, chilli powder, orange peel, ginger, Sichuan pepper, kelp powder and seaweed.
Well I say 'come free' but our Gyoza lived up to their Japanese name of 'pot stickers' and would not come unstuck without a fight, one which saw a few of them lose their innards and me lose my temper.


That's how you learn though, through your mistakes, and they still tasted great and I did feel a sense of accomplishment. An hour well spent.

It was a good taster of the courses too. Other Food & Drink courses available on Learning with Experts include The Art of Chocolate Making with Paul A Young, Classic French Cuisine: The Roux Way with Michel Roux Jr, Indian Cuisine with Atul Kochhar and The River Cottage Cooking Diploma, led by Hugh Fearnley Whittingstall and The River Cottage team.

The Japanese Cuisine course is available online now and will teach you not just how to cook five iconic Japanese dishes – Tonkatsu, Ramen, Gyoza, Okonomiyaki and Yakitori – but also recipe history, regional dishes, dining etiquette and ingredients.