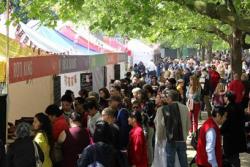 Enjoy a taste of Malaysia this spring at the second annual Malaysia Kitchen Spring Market taking place this bank holiday weekend on the 2nd and 3rd  May in London.
The free event which takes place on London's Southbank, between the OXO Tower and Waterloo Bridge, will see around 15 different Malaysian restaurants and vendors from across the UK gather to showcase the very best in Malaysian cuisine, selling everything from Beef Rendang and Chicken Satay through to delicious Laksa.
Experience Malaysia through its food and find out more about why Malaysian cuisine could be the new trend for 2015. Watch Malaysian cookery demos, meet top Malaysian and British chefs and sit back and enjoy musical performances and dances, all while sampling some of the best Malaysian cuisine in the country.
There will also be an opportunity to purchase Malaysian ingredients to recreate authentic tasting dishes at home, to wow friends and family.