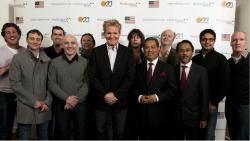 Once past a rope cordon that initially refused to fall, I escaped hostile weather and outright commerce for the launch of 'Malaysia Kitchen'. Funded by the Malaysian government, the year-long campaign seeks to increase reservations by a third across London's 41 eateries (of the UK's 60) whilst igniting interest in tourism in the ecologically 'megadiverse' country.
A sizeable group of homegrown celebrity chefs and diplomats, press and émigré restaurateurs from Malaysia gathered at Westfield's three-month old 'Jom Makam' restaurant ('Let's Go Eat'), the sequel to the Pall Mall outlet. The choice of a shopping centre for such pomp and blast wasn't odd according to my companion, who was raised in Malaysia. Offering air-conditioned refuge to sultry weather, malls are much-loved, with Kuala Lumpur's 'Berjaya, Times Square' allegedly the most sprawling at 7.5 million square-feet.
Eschewing Muslim dictat (60p/c of the population practices Islam), flutes of Bisol Prosecco pepped with raspberries were offered alongside non-alcoholic 'Air Bandung' cocktails. The colour of Pepto-Bismol, this thick, soapy blend of rose syrup, condensed milk and draft sparkling water evoked the odour of smouldering draw liners.
Formally introducing the event, Malaysian Trade Commissioner to the UK, Raja Badrulnizam Raja Kamalzaman Yassin said, 'ours is a multi-ethnic, multi-cultural society, but we have been a late starter in using food as an ambassador. We hope in the not too distant future it will find wider acceptance in the UK.'
Staged on tier-two of the three-storey venue, Malaysia's Deputy Prime Minister, Tan Sri Muhyiddin Yassin (a post once occupied by Dato' Seri Anwar Ibrahim, jailed for corruption and sodomy) then posed for photographs. Chef subjects included Gordon Ramsay (bathed anyway in flash bulbs from entrance to exit) and disciples Angela Hartnet, Jason Atherton and Stuart Gillies, as well as Henry Harris, Claude Bosi, Shane Osborn, Anthony Demetre, Giancarlo Caldesi, Richard Corrigan and Atul Kochhar (whose restaurant, Benares reopens 18th January). Comedian, presenter and enthusiast cook, Hardeep Singh Kohli was also present. Perhaps explaining such turnout, Kamalzaman Yassin told The Malaysian Insider the previous day that he intended to organise 'three or four visits this year to bring five or six celebrity chefs at a time to Malaysia to enable them to hone their cooking skills in preparing Malaysian dishes'.
Cheekily, I couldn't help but imagine how odd it would seem to find Britain's ex Deputy PM, bulemic John Prescott, lauding our food staples in southeast Asia.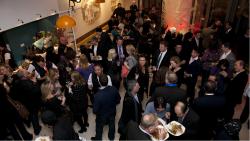 After slightly wan looking, anonymous tasting, cool breaded prawn brochettes and filo swabs, a more Technicolor buffet was carried over our heads. The national dish of close-pressed beef rendang was uplifting and fragrantly spiced with galangal, ginger, kaffir lime and long red chillies, whilst flatbread (roti canai) was a little damp – 'not crispy with a fluffy centre like it should be' according to my friend. Finally, 'Europcar' green banded 'kuih lapis' coconut cakes had the rather more-ish texture of marzipan.
In the distance, a giant pyramid of just baked fortune crackers steamed in the utterly open plan kitchen.
For a list of London's Malaysian restaurant, including both instances of Jom Makan, visit: www.malaysiakitchen.co.uk where you can sign-up for updates. Malaysia Kitchen will also be sponsoring Taste London in June as well as re-creating a 'night hawker's market' in central London…