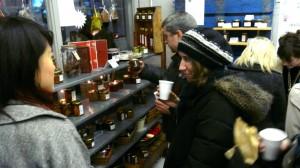 Performance art and food bloggers, two things that make me reach for my gun. Luckily they will be in the same place this Saturday 15th January in Brixton. Should save me some ammo eh?
But if it's the sort of thing that floats your boat, perhaps you also wear an ironic trilby and have pointed shoes, it sounds like you'll like Brixton's Big Foodie Day in Brixton Village. I've lived here for over ten years and this is the first I've heard of a village, but it seems they mean the old Granville Arcade which could certainly do with some yuppification.
New restaurants and cafes, not all of them serving Jerk Chicken, pop up events and all kinds of going ons. You won't be able to move for people tweeting each other.
Check out the website. In all seriousness Brixton could do with a lift and if this turns out to be more than transitory trendiness it will be a 'good thing'
Find out more