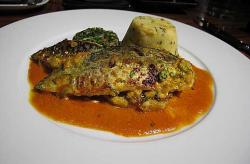 I don't like mackerel. I used to love catching them though, lowering a gaggle of brightly coloured feathers off the pier and then a few minutes later winching a shuddering mass of silver and black fish up and over the edge. As my infatuation with fishing grew, my mother began to greet my return with diminishing cries of enthusiasm. I never ate the mackerel myself. Finally I stopped fishing altogether, I don't know what happened. Punk, I think.
So what am I doing making loud, appreciative noises over a mackerel dish? Why did I order it and how come I like it? Two reasons: Vivek Singh. I'd try anything he suggested, especially fish.
It's part of a new £18 for three courses £15 for two set lunch deal now on at Cinnamon Kitchen, a place I always look forward to visiting and which never lets me down. As I've said before, it's remarkable to think that Brick Lane is just a few hundred yards away and yet the class of cooking couldn't be further apart.
My dosai starter was delicious, reduced to plate proportions, rather than the usual dustbin lid size, it still had the friable edges and the fizzy overnight fermented texture of lentils and rice that's so vital to this South Indian savoury pancake staple. Filled with a subtly spiced mash and accompanied by fresh, cooling, coconut chutney it was elegant while at the same time substantial. K, who loves a prawn and sometimes claims to want to live on them, had stir fry of red sea shrimps with cracked pepper. He was very happy with that.
And then came the magic mackerel. This was the only whole fish on the choice of three lunch special items, so I simply had to have it. Vivek's fish cookery book is gastro porn in our house, even if we have never taken up the challenge of cooking any of its remarkable recipes.
The fish arrives as two gilded fillets, shimmering on the plate. A Table Mountain of masala mash looks over it and there's a Bengali sauce of vibrant piquancy called kasundi mustard. This is not a mustard at all but a sauce that combines chilli, garlic, fresh mango and mustard seeds, and it's the mango that adds the depth of flavour against the fiery chilli. Superb, the 'fishiness' of the mackerel, which is what I always find hard to stomach, diluted so that the meaty flesh can be enjoyed all the more. Mackerel is a very sustainable fish too, especially now that I have stopped hunting it. K's braised lamb with mint and red onion and pilau rice goes down a treat, he likes the tender meat, the cooling mint and the overall clear definition of tastes with the sauce clinging to the meat and not swamping it.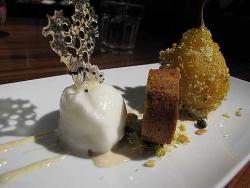 Having succumbed earlier to an orgy of Nan eating with excellent pickles, we're a bit full now so only I have the saffron poached pear with almonds and a buttermilk sorbet. Stunningly presented it tastes divine; if ever you felt that 'Indian' restaurants couldn't do dessert, this would change your mind.
Vivek comes out to tell us that each week the set menu will change; potential dishes coming up could be Tandoori duck breast with garlic, roasted cloves and smoked paprika raita; pan seared escalope of Galloway beef with mint and rock moss or Bengali spiced vegetable cake with mustard and tomato. Mains will range from Tandoori Nile perch with tomato and tamarind sauce; bangras – homemade date and apricot pork sausages with coriander mash; or chargrilled monkfish with masala vermicelli. Dessert options may include sorbets of the day; baked yoghurt and ginger cheesecake; or chocolate and carom seed crumble.
It's a great deal and is also mirrored at the Cinnamon Club. You don't get cooking this good every day and certainly not at these prices. Catch of the month, I'd say
Set lunch at The Cinnamon Club is £19 for two courses or £22 for three
Monday – Saturday 12noon – 2.45pm
The Cinnamon Club,
The Old Westminster Library, 30-32 Great Smith Street, London SW1P 3BU
t.020 7222 2555 www.cinnamonclub.com
Set lunch at Cinnamon Kitchen is £15 for two course and £18 for three
Monday – Friday 12noon – 2.45pm
Cinnamon Kitchen and Anise,
9 Devonshire Square, London, EC2M 4YL,
t:020 7626 5000 www.cinnamon-kitchen.com