Bumpkin South Kensington<, 102 Old Brompton Road, South Kensington, London SW7 3RD www.bumpkinuk.com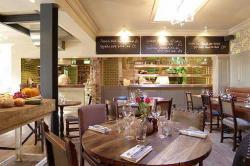 On what must be the coldest day in London for the past 30 years, we shuffle in through the narrow doors of Bumpkin in South Kensington. Looking like a pair of Eskimos, bundled up with little else but our eyes showing, we are just grateful to be inside somewhere warm and cosy. Bumpkin is a quirky cross-breed that combines the charm of a traditional country inn with the modern décor of a trendy city haunt. The rustic wooden flooring and stripped brick walls are paired with vibrant patterned wall paper and eclectic fabrics and furnishings.
As my toes defrost, there seems to be a slight confusion over the whereabouts of our booking. Located at last, we are seated at a table with two rickety chairs that quake at the prospect of our respective posteriors resting on them. Without making the slightest suggestion that we may be uncomfortable, the manager approaches us and offers us a table away from the draft and relocates us to a comfortable table with banquette seating away from the cold. He gets bonus points from me for doing that, I would always choose comfy banquette seating over a bog standard table. I'm perfectly aware how spoilt this makes me but I'm comfortable with it.
Having checked out the menu online, I had already honed in on what I was going to order. Wait a minute… where is my Lancashire Hotpot? Reduced menu on Saturday lunchtime? I sit back and sulk in my chair like a child and cannot contain my disappointment, I am beginning to regret skipping breakfast for this. The menu lists an all day full English breakfast as well as fish n' chips and bangers and mash to name a few It's going to take a lot more than that to tickle my taste buds and I begin to despair. Our waitress approaches the table, placing the daily 'specials' menu in front of us; this saves the day. Not exactly the full menu I had hoped for but we plump for a warming starter of onion soup with thyme, accompanied by lovely doorstep chunks of bread studded with caraway seeds. An ideal winter warmer, hitting the spot perfectly. Quite similar to a classic French Onion soup with the addition of thyme but without the Gruyere coated crouton, which is arguably my favourite bit but regardless, it remains a sensible start to what could be a heavy meal ahead.
I opt for a main course of 'Buccleuch' pork chop with a side of mashed potatoes and curly kale with red wine gravy and my companion goes for the homemade burger of Welsh black beef with a side of chunky chips. At first bite, the pork is juicy and tender and the fat, crisp and sticky as it should be. The mashed potatoes are smooth and creamy and the red wine jus is a perfect accompaniment to the dish. I nab a bite of the Welsh black beef burger and it is lovely and medium rare on the inside with a nice doughy bun and great chips (skin-on) with a garlicky mayonnaise dip.
I'm always full after having a starter and main, but I feel it my duty to fight the feeling and soldier on. The funny chap serving us comes over to take our orders, having made us laugh several times throughout lunch already, quizzing us about everything from our country of origin to our taste in music, he asks us what we would like for dessert whilst muttering the words 'Sticky date pudding, sticky date pudding" under his breath. I take his comically subtle advice, knowing that I would have chosen that anyway and go with that plus butterscotch sauce and vanilla ice cream.
My companion chooses the dangerously rich-sounding triple chocolate brownie with Bailey's ice cream. The sticky date pudding is fantastic; hot steamed date-studded sponge with silky butterscotch sauce and a generous dollop of vanilla ice cream. The brownie is also good and surprisingly not as dense or rich as I would have expected it to be. Neither of us have managed to finish our desserts as we are both stuffed beyond all human capacity and with that, we manage to hobble, sluggishly, out of the restaurant.
It has taken me a long time to finally dine at Bumpkin, having made countless bookings in the past and had to cancel them for one reason or another. Having made it here at long last, it was perfect for a pit-stop for a comfort meal on a Winter's day.
Bumpkin are also in Notting Hill
209 Westbourne Park Road
Notting Hill, London W11 1EA