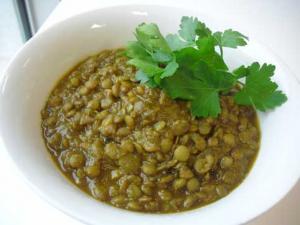 Last week I mentioned that I will be staying off the naughty foods for a while and sticking to good, wholesome, deliciously filling and naturally low fat foods and so here is the first in the series of healthy, but lip-smackingly good meals perfect for this time of year.
Lentils are not only cheap, but are an excellent source of protein, fibre and slow-releasing carbohydrates, which keep you fuller for longer. Now that's the boring health stuff out the way, we can focus on the yum-factor! This dish was first made for me by my Aunt in Switzerland. I was a kid and it was a cold winter in Lausanne and she served up a steaming big pot of these lentils with warm, crusty baguette chunks and it was heavenly. I was hooked. I must admit that I am normally a huge carnivore and find it excruciating to have a meal without some kind of meat or fish in it, but this is just so tasty that it satisfies me 100%. Even better than that, it is so simple! I made a batch and took it to work with me and my colleagues loved it so much, I decided it must be a good recipe to share with you, plus it suits vegetarian and even vegans, so it's a great all rounder!
The below recipe makes at least 5 main meals, so is ideal for making on a Sunday night and then taking to work a few times in the week and it freezes well too, so you have NO excuse. It's cheap and cheerful and utterly delicious!
Ingredients
1 x 500g pack of green lentils
2 small onions, finely chopped
100g of tomato puree
2 heaped dessert spoons of curry powder
3 heaped dessert spoons of vegetable stock (I use Swiss vegetable bouillon)
A little oil (To make it virtually fat free, I used a little low calorie olive oil spray)
Salt and pepper to taste
Hot water from the kettle
Method
In a big preheated cooking pot over a medium heat (low-medium if you are using gas)
Sauté your onions (with oil or I use low fat 1kcal olive oil spray) cooking them until slightly golden, but not browned. Then add your lentils, curry powder and tomato puree and just a little bit of water to prevent it from going dry and mix well ensuring the puree and curry powder are thoroughly incorporated. Using boiling water from a kettle, fill the pan with about 2.5 litres of water and then add your stock powder and leave to cook gently for an hour. Make sure you stir the lentils occasionally to prevent them from sticking and do not cover the pot with a lid throughout cooking process. You will also find you may need to top the water level up through cooking process, which I suggest you do a little at a time. After an hour cooking, add some salt and pepper to taste and serve piping hot with some crusty bread of just by itself. It really is comfort food at its best and if you think it was good today, try the leftovers tomorrow and it will be even better… Enjoy!