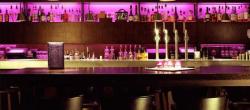 If you have been living on Mars in a small cave with your fingers in your ears and a blindfold on you may not have noticed that on Friday 27th July, the Olympic games started in London. Now that the talk of Danny Boyle's dancing nurses and Kenneth Branagh's industrial revolution have calmed down, we can enjoy two weeks of record breaking and lycra.
If you are anything like me, the idea of spending summer days indoors watching swimming heats and weightlifting sounds like bliss. But then, not all of us are not so inclined. Malmaison, the hotel, not the château, have therefore put on a drinks menu for those who wish to support Great Britain in what is many people's favourite unofficial event – the Drinkathalon.
In the north-west corner of Charterhouse Square sits the Malmaison hotel, the venue for this event. Malmaison are offering a menu of 6 different cocktails all of which are meant to reflect some aspect of the Olympic games. The bar itself is cozy and dark, with strategically placed TV screens ready to screen as many of the 302 events that will be contested during the course of the next few weeks.
To start, we enjoyed a modest Silver Martini, made up of gin, Cointreau and a half a squeezed lemon, which was mixed very well, tasting light and refreshing. To really get into the spirit of things I then chose a Team GB Martini, which looked a little like an ice lolly, with blocks of red, white and blue that, unfortunately, you had to mix together in order to drink. It turned it into a rather disappointing purple-ish shade, but tasted like ice cream so I let it slide.
Next up, we went for Gold and Bronze Martinis. The Gold Martini was blended vodka, elderflower and sparkling wine, and looked the part but the sparking wine rather overshadowed the elderflower and vodka, giving the Martini a rather aquired taste. The Bronze also had a very strong flavour, owing perhaps to the 3 dashes of Angostura Bitter. The result was that the Bronze tasted like something akin to mulled wine and tasted a little out of season. To finish, we decided that we had to try one of the 5 Olympic shots, coloured to match the symbolic Olympic rings and settled on the black Patron XO Cafe, a coffee flavoured tequila which was much nicer than it sounds, and a fitting end to an enjoyable night of cocktail quaffing.