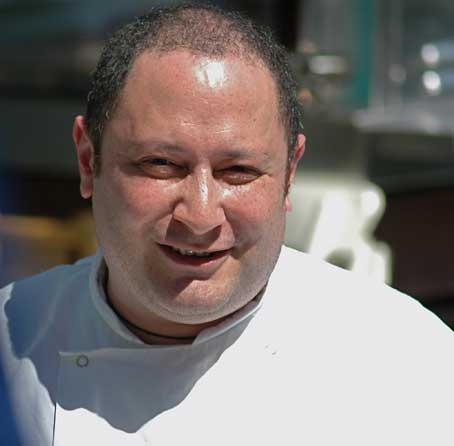 The giant sunglasses of the cool clientele are rotated like satellite dishes to the TV screen showing ten-foot tall tennis players. It's not Wimbledon but maybe somewher better, the forecourt of the Bluebird café. We ask Chef Mathew Burgess about his service at this Chelsea icon. Pictures Al Stuart.
'Ketchup? That's what it's there for. To put on your food!" Head Chef at the Bluebird Café, Mathew Burgess, has left what must be his insanely hot kitchen on this scorching June day to join us out on the famous Bluebird courtyard. Where once decent chaps in trilby hats filled up the MG before departing with a filly to the country, now sit Chelsea's finest in designer and fancy T-Shirts. Each probably cost more than some of the suits you see in the City.
It looks fabulous here; D&D have transformed the courtyard for Wimbledon week, laying down a fake grass carpet tennis court, installing a massive screen that shows the action live and putting loads of giant tennis balls on the canopy that once shielded the petrol pumps.
So why are we talking ketchup and not Andy Murray? Because Mathew has heard that I poked fun at our photographer Al when he reached for the bottle over lunch. 'We're a café not a restaurant. And it is Heinz, it's not rubbish,' Mathew laughs. 'And,' Al adds from behind his Nikon, 'I did put it on my chips, not my steak!' Fair point.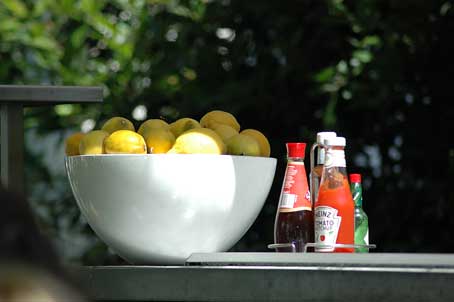 We've had a great lunch. Grilled asparagus with parmesan, steak, béarnaise sauce and chips, rotisserie spring chicken and mayonnaise and, of course, lashings of tomato ketchup, topped off with Eton mess and strawberries and rich yellow clotted cream. All washed down with a bottle of rose, which seems to be the drink of choice out here today. 'Last year we sold 260 bottles of rose in one day.' Mathew remembers. 'It's what it's all about isn't it? A really good bottle of rose in between a bit of light shopping. I don't think many people here have to go back to an office!'
Mathew is a New Zealander in this British institution and loves it. 'My background is Pan Asian cooking but here its all about the classics done well. Steaks, fish, burgers, chicken all that. You come in a place like this as some egotistical chef and want to change everything, why? Not when it's worked so well for so many years, and there have been so many great chefs here. I love the produce that we work with; we've got brilliant suppliers and buying power thanks to the D&D clout – 28 restaurants worldwide. That doesn't mean we buy cheap produce, it means we can buy the best produce for the best price.'
I get a bit confused by the distinction between the café and the restaurant but it's really quite simple. 'It is a bit confusing I suppose, 'agrees Mathew, 'the restaurant's run by Mark Block the Executive Chef of Bluebird. Down here I pretty much run everything else. I'm also chef for the Food Stall over there where we sell jams and preserves and the courtyard here with its BBQ. And as you can see, on a day like today the courtyard is where people really want to be.'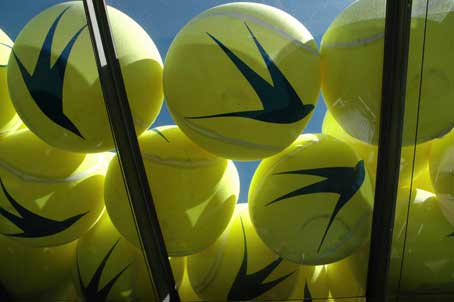 Indeed there is a steady flow of beautiful people, none of whom have to wait long for a table. 'It's the café thing,' says Mathew, 'people pop in, eat and leave they don't linger. Although if it was me I would settle in for the day with a big drink.' At the café they average 600 covers a day, 1000 at weekends in a place that is open from lunch until after ten when the last customers leave. It's old school cooking, fast, furious, simple and Mathew loves it.
'It is what I like best, the heat, the pressure. When I first came over here ten years ago I had to lose some bad NZ habits. There we used to just bang out the food, here, especially when I worked at Soho House, I discovered that you learn how to do each dish absolutely properly,' he pauses, 'and then you bang it out!'
The locals can be demanding. 'Some like the skin removed from the rotisserie chicken, the model girls watching their weight, but it's the best bit!' he shakes his head. Having just eaten every last bit of the rich, crispy, golden skin on my Spring chicken I agree totally. 'But we are here to give people just what they want, simple things done perfectly. You tell the waiter you want your steak done a certain way, we will achieve that. Just as you like it, not as we necessarily do.'
'Burgers, steaks, grilled fish. They are our standard dishes, never out of fashion and I'm proud of them. Some people might say, huh what's that then? But for me giving people what they want and doing it well every time, that's the skill. There's no presentation to disguise what you're eating, it simply has to be good.'
And good it is, the chips, with ketchup or not, are perfect – golden, crispy and with that classic little pile of bits at the bottom of the bowl that I can only just restrain myself from picking up and tipping into my mouth. The steak was cooked exactly as asked for and the chicken, despite looking disconcertingly like something from Eraserhead, as good as any Parisian bistro could turn out. And let's face it, this may be a café but it has more in common with a bistro.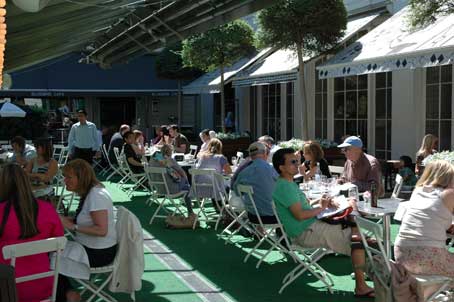 'I've been all over Europe since I arrived here,' Mathew points out reaching with a large tattooed arm for his iced water, 'and France is the best for me. Sitting down in a backstreet bistro to a great bowl of bouillabaisse made by the family? Fantastic.'
Not that Mathew has forgotten his pan Asian cooking roots, not with Miso salmon as the day's special. 'Yes that's today's cheffy dish. The sort of clean, healthy dish my customers like – we've sold twenty already since start of service today,' he cheerily points out.
He has to go back to the kitchen. The flow of customers shows no sign of slowing up even though it is now getting on for afternoon. The tennis is looking good, Murray is due on soon. Some brightly coloured free jellies are entertaining those waiting for a table and the wait staff seem as happy as can be. Wimbledon is a great British institution and so is the Bluebird Café so pass the ketchup please.