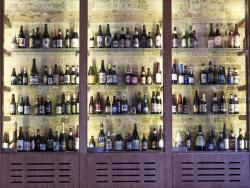 The ever-increasing popularity of'craft beer' has heralded a new level of respect for beer as a drink that can rival wine in terms of complexity and sophistication.
Guzzling bottles of lager in Indian restaurants has hitherto been the most prominent example of'beer and food matching' but the new, distinctive, diverse range of brews hitting the shelves has got people considering the idea more seriously. Even wine critics like Fiona Beckett have started extolling the virtues of pairing beer with food.
To make us feel merry and further encourage us to consider beer in this way, beer and food matching nights are regularly held by the Meantime Brewing Company at its Old Brewery restaurant in Greenwich. The evenings are centred on particular themes or styles of beer and for £50 you get to sup your way through numerous glasses with a five-course meal. An expert on the topic is also thrown in to keep you informed and entertained.
'Extremely Rare and Rarely Extreme USA Craft Beers', was the evening I was invited to attend. I first tried Sierra Nevada Pale Ale during a trip to the States five years ago and have been drinking, and loving, similar Yank beers ever since, so you can imagine my glee at the theme. If you don't have an imagination, I was gleeful.
Surprisingly for a country that has the ferociously bland Bud Light as its best-selling beer and one whose inhabitants spend approximately $11bn per year on lager made by Budweiser, Miller and Coors, the US does produce some of the world's finest beer. The opportunity to try some rare examples without paying £10 per bottle at Borough Market was a prospect bordering on the pant-wetting, irrespective of how well they went with food.
Glenn Payne, a man with years of experience buying decent beer for UK supermarkets and someone to thank for getting the delicious Goose Island IPA imported here, duly delivered some fantastic beers on the night; some I'd never seen or heard of let alone tasted. There were thirteen in total, including American versions of Belgian-style ales courtesy of Brooklyn Brewery, Maui Brewery Co and Stone Brewing Co, and more classic hoppy American styles from Sierra Nevada and Odell.
The menu for the evening consisted of potted mackerel, pork terrine, pepper steak, lemon posset with shortbread followed by cheese – so a utopian feast for a vegan. As part of the kitchen's effort for 50ish people, all eating at roughly the same time, our food was good, if a little unremarkable, but then I imagine the star of these evenings is supposed to be the beer.
Unfortunately, steak and cheese are two foods that scream'WINE' at me with every mouthful; while the beers we tried with them were undoubtedly of high quality, there is no risk of beer enhancing the flavour of these two foods to the degree that wine can.
Wine interacts with the proteins in these foods in a way that I assume beer is scientifically incapable and surely only those with a strong aversion to wine will ever consider drinking brown ale with steak rather than a decent glass of red. Perhaps these dishes were included on the menu to prove there is an alternative to wine, but as much as I love beer (we've had a passionate relationship for over ten years now) I still ended up thinking'what's the point?' with regards to these two pairings.
We tried five different beers with the four cheeses, one of which was Sam Adams Utopia, a beer aged in bourbon, sherry, brandy and cognac casks that costs $190 a bottle. This only served to highlight the danger that in the quest to make something distinctive beers become gimmicky and too removed from the original concept; if you really want a drink that tastes like fortified wine, then buy fortified wine. The Utopia made me wonder why anyone would choose to shell out $190 for a drink that tries so hard to taste like sherry when sherry is available for a fraction of the price. This might be a slightly over-simplified argument but I'd still want my $190 back.
There was evidence on the night, specifically Odell's Double Pilsner with the lemon posset, that beer can successfully partner certain dishes but the evening also showed that beer has its limits. To go to excessive lengths in an attempt to circumnavigate those limitations, to me, seems pointless. Beer can be so much more than cold, watery, tasteless lager but there is still a magical place wine can take your tastebuds that beer cannot.
That being said, it's likely that if you love beer you will enjoy these evenings regardless of whether you believe all the beer-food pairings to be successful – I certainly did.
The next evening,'A Brief History of IPA', will be held on the 3rd of December and is to be hosted by Pete Brown, a seasoned beer writer. If you have a passion for IPA and £50 in your pocket that you don't need for winter heating bills it would be well worth heading to Greenwich to enjoy a relaxing, boozy evening – you're likely to discover something new and delicious.
"A Brief History of IPA", a Beer and Food matching Evening hosted by beer writer Pete Brown on Monday 3rd December 2012 at The Old Brewery. – The Old Brewery, The Pepys Building, The Old Royal Naval College, London SE10 9LW – www.oldbrewerygreenwich.com.