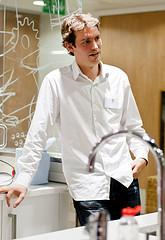 Up until recently, Mexican food in London was sorely lacking. Growing up in London where we were faced with hellish Tex-Mex high-street restaurants, chillies that packed no punch and no Hispanic staff in sight, this was the stuff of nightmares. Thankfully, Mexican has had a sudden make-over and now you can barely walk down any street without a new restaurant popping up, from Cali-Mexican burrito joints, to street food that'll have you convinced you entered a worm hole and emerged in the middle of Oaxaca.
This influx of Mexican food in London is all well and good but how easy is it to re-create at home? In conjunction with Waitrose Cookery School and Discovery Foods, Benito's Hat had invited myself and nine others to a "cook-off" to test our skills, with a KitchenAid blender up for grabs for the winner as well as a dinner for two at the restaurant for the runner up; so on a chilly evening off I trundled to North London to get my Mexican on, my eyes on the prize and ready to go – arriba!
Benito's Hat founder Ben Fordham apparently discovered his love of Mexican food in Texas, the same State where I experienced "real Mexican," as opposed to the Americanised imitation, found in the Taco Bells and Chipotles of the world. Perhaps the thing that sets them apart the most from the other Mexican restaurants in London is their head chef and partner, Felipe Cruz, an actual Mexican. That probably sounds odd – how does that make any sort of difference? Well, Felipe's recipes are versions of the food he grew up with and the cooking his family treasured, so there are decades of experience, tweaking and damn good food behind them. "Mexican food," he told me, "is different from family to family. There are no recipes – everybody has their own version."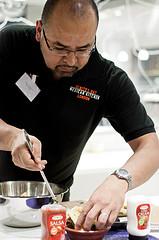 Over the next couple of hours we watched Felipe demonstrating a couple of simple dishes (jicama – a kind of Mexican turnip – salad, and garlicky prawn tacos), before being let loose in the kitchens, three tables of ingredients at our disposal, running around like headless chickens fuelled by margaritas. I had spied a couple of corn cobs on the ingredients table and so had decided to make Mexican roasted corn (a traditional street food, usually roasted over hot coals) and some bandera guacamole (yes, I was trying to garner extra points for shaping my red and green peppers on the white plate like the Mexican flag) – a little boring, maybe, but extremely tasty.
The rest of the group were far more adventurous than I, turning out fish and prawn dishes galore and showcasing a cornucopia of creativity. Elly McCausland was rewarded for her efforts with the first prize, creating pan-fried spice-crusted sea bass served on a bed of baby spinach, avocado, raisins, orange, pumpkin seeds, coriander and lime juice; whilst the runner-up prize was split between Colin Irwin for his Pipian Mole Verde with tostadas and Rosana McPhee for her Brazilian-inspired black bean soup.
I may have been leaving the challenge prize-less but after an evening of giggles, tasty food, copious margaritas and a bag full of Discovery Foods products to play with, I wasn't complaining. The verdict? Mexican food is easy enough to make at home, especially when Discovery Foods make it so simple with their range of high-quality ingredients… but if I was feeling lazy I could always take a trip to Benito's Hat so that Felipe could cook it for me instead; a pretty good result all round.