Selfridges is always synonymous with style. From the bright yellow bags to their stunning Christmas lights at the Oxford St flagship store, you'll always find something for the fussiest customer at one of London's most iconic stores.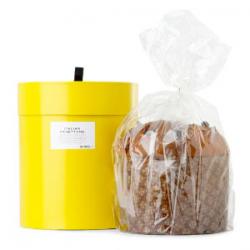 This Christmas is no exception with their food hall packed with Christmas cheer from their eponymous Selfridges' Selection to the finest array of gourmet brands including Godiva, Charbonnel et Walker and Moet & Chandon in everything from pate, port and panettone.
My Christmas sampling has almost come to an end, with my bag from Selfridges waiting with the courier as I ran down the street to stop him from driving away with my treasures.
A little hat box in that recognisable canary yellow was the first thing to be opened. It didn't last long either. While God may have given us butter and the French gave us brioche, the Italians trumped them all with panettone.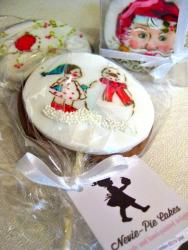 The Seflridges' Selection branded panettone in a box lasted all of about 2 hours when I decided late in the day that I needed an afternoon pick-me-up that involved said panettone. All I need is one word to describe this event; delightful. At £8.49 for one of these beauties you might want to linger on yours a little longer than I did, but nonetheless this was indeed a gourmet treat and a great gift idea for any foodie.
Biscuit tins are always a winner at Christmas time for anyone from the postman to your nanna. St Kew's Christmas cookies were crumbly, buttery and tasted every bit as wonderful as their Original Recipe promises. Although I do believe all biscuit makers should seriously consider leaving out the ones with raisins in them, they're always the last to go.
While my bag of goodies was a delight to behold, there were a couple of items that stole the limelight from the others. The hand-painted ginger bread lolly-pops and cupcakes from Nevie-pie Cakes drew gasps of delight from everyone in my family who saw them. From little boys to hairy chested men, these truly charming cakes capture the wistful cheer of Christmas with one stroke of the brush, on white icing that is. At £5.99, these hand-painted sweeties from Nevie-Pie make one of the best Christmas gifts of the year.
Selfridges & Co 400 Oxford Street London W1A 1ABs 0800 123 400 www.selfridges.com