With Christmas round the corner, gift shopping is on a lot of our to-do lists. But it doesn't end there, oh no. Once the presents are bought, there's wrapping to contend with, sticky tape to wrangle, ribbons to tie and re-tie until absolutely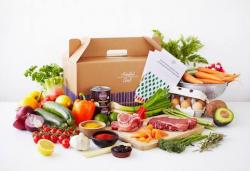 perfect. While these might look spectacular under the Christmas tree, I've found that a plain brown box works quite nicely for me –when it's filled with food goodies, that is. So it was with great excitement that I received my Mindful Chef recipe box.
The Mindful Chef box is an organic recipe box that was set up in 2014 in Devon by two friends, Guy Humphries and Myles Hopper. They believe that busy lives often mean that healthy eating is sacrificed, so the concept was to make nutritious food easily accessible.
 Packed up and ready to go
A weekly box can include up to three meals that are delivered to your door, with recipes that use organic vegetables, grass-fed meat and sustainably caught fish – with no white rice, bread or pasta. All the ingredients are already measured out for you, so it's just about following the recipes included and adding the various ingredients as you go for meals that are all ready in 20 minutes. Plus, the boxes are filled with WoolCool bags and ice packs, which means they can happily sit in your front-garden if you're not at home for the delivery.
Follow the Mindful diet for a few weeks, and the idea is that you should feel more energetic, leaner and have better skin and sleep patterns. Surely that alone is enough to tempt you?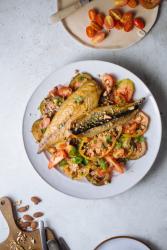 The box I was sent was the Naked Diet box (that ran for a limited time), which was created in collaboration with Tess Ward (and based on her book, The Naked Diet). The recipes claimed to be easy to prepare but full of flavour. But isn't that what all diet food claims and then ends up being as tasty as a bit of cardboard? Feeling a little sceptical, it was time to put it to the test.
My box included three recipes for two people, and inside were three bags labelled'fish','meat' and'chicken', which each held the ingredients for that meal, as well as a recipe. First up was the Chicken breast and red cacao sauce. The sauce was made with coconut oil and included smoked paprika, ground cumin, raw cocoa powder, cashew nut butter and tomatoes with a date for sweetness. The end result was rather brown looking and did nothing to dispel my initial scepticism, with my taste buds expecting something quite thin flavour-wise. However, the sauce was deliciously rich with a slight smokiness and, served with the succulent chicken, it was a lovely dish.
Another meal was Heirloom tomato salad with mackerel, shallots and almonds. The tomato salad was made with chopped shallots, smoked almonds and capers, then dressed with a mixture of maple syrup, smoked paprika, olive oil and lemon juice and finished with parsley. It had a wonderful fresh taste, with the saltiness of the capers and the smokiness of both the paprika and almonds transforming plain tomatoes into a lick-smacking dish. Although delicious with the fish, I'd make this again and try it also with grilled meat, or on top of slices of toasted garlic-rubbed sourdough bread.
Easy-peasy (and idiot proof)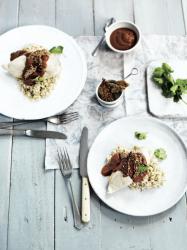 The recipe box had another, unforeseen, benefit. In my household, I'm the cook. It's my love, so it's not too much of a hardship unless I'm working late, then cooking can feel more like pain than pleasure. Arguably, this would also be the best time to make use of your recipe box, however, in my absence, it inspired my other half to get in the kitchen and try his hand at the Lamb chops with quinoa tabbouleh. With a step-by-step recipe and all the ingredients in the bag, quite literally, margin for error – or panic – was small, and the result was a mouth-watering one at the end of a long day. The lamb was marinated in chopped red onion, garlic and chilli to tenderise it before cooking, then served on top of quinoa, which had been combined with chopped tomatoes, parsley, mint and lemon juice. The final flourish was a dollop of Greek yogurt and a sprinkling of sumac. Light yet meaty, it packed more flavour than expected from the few ingredients used, and is another dish that I'd happily eat again.
Although this was a'diet' box, the meals were all interesting and delicious and didn't make us feel deprived. The only negative is that I thought all of them could benefit from a side dish, but that was easy to solve with the addition of some broccoli, spinach and salad leaves.
So was I leaner and more energised at the end of the week? That's probably a big ask after just three meals, but our eating habits felt more virtuous, without having sacrificed either taste or enjoyment. So if you want to prepare fresh,'fast' food that's simple to make and tastes great, then I'd recommend giving Mindful Chef a try. And for those looking to entice their other halves into the kitchen, this might just be for you, too – it certainly worked for me.
Mindful Chef boxes start from £16, see mindfulchef.com