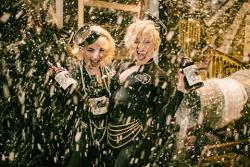 On Tuesday we set sail to the hipster shores of Hoxton to sample the delight that is Kraken Rum. The usually sleepy streets on Hoxton Tuesdays were, instead, filled with a soft gaggle of rum-infused, quirky Christmas cheer.
Stepping up to the entrance of "Think Ink Pines Shop" (a pop-up that sells real, all-black Christmas Trees for those of you that don't know) we were met with a sprinkling of'snow'. Nice touch, Kraken. I can't describe the overwhelming nostalgia I felt, as if I was stepping into a rather cool house party – people rammed in, music pounding. Yeah, that's what I call a Tuesday night! It was a group aim that we all individually had to sample all five cocktails on offer. Well, it is technically my job to'critique' them?
Here we go, Round One *ding ding*. If you enjoy the powerful, full bodied punch of a cocktail then this one is for you hard nuts out there. Much like the classic Old Fashioned, with the same sugars, bitters and citrus rind, but instead this is laced with the spicy Kraken. Great cocktail, but maybe not the best one for your first cocktail of the night…
Step up to the plate please, cocktail number two… The Black Espresso. A personal favourite as I do enjoy a sweet cocktail. Not too sure if the same positive feeling was matched in my group but it certainly was a winning take on an espresso martini. Let's not forget, the white chocolate garnish (more like a hunk of the stuff) that was a big hit with me!
Whilst gnawing the white chocolate chunk, I waded through the throng of hipster cool kids to the bar, where a fella dressed in a traditional diving suit questioned what cocktails I had sampled thus far… with the result being me clutching four kilner jars filled with "Squid Bite" the third beverage on our Kraken quest. This one is an absolute cracker for these wintery months as it's hot mulled cider whisked with our dear friend Kraken. The only danger is that it goes down far too easily!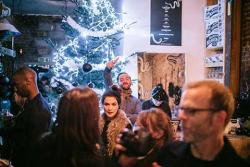 A brief interlude throughout the five cocktails was the incredibly alternative Christmas Carols… I have never in my whole life heard the screaming metal versions of jingle bells and silent night, possibly the highlight of the night for me. Watching these two guys belting out the classics, the lovely Kraken ladies dished out "Kraken S'Pore" – that's a shot of kraken rum with a toasted marshmallow garnish. The faced-paced carols made knocking back this firecracker easy – didn't even give it a second thought pre-consumption.
On the home straight of this cocktail run, last but certainly not least may The Perfect Storm please stand up? Squid Bite's Gingery brother (same hot mulled cider/Kraken recipe except this had the addition of ginger beer… yes!), is certainly a dream if you can handle the ginger flavour.
Perhaps aided by the fact that I was four cocktails down at this point, it must be said that these recipes are not for the faint hearted – but you know what? I was pleasantly surprised that the cocktails weren't too pungent and overpowering. If you're up for sampling them for yourselves, hurry as they're only around until Sunday so "Krak" on! (Ok, I'm out!)
Photos: Jack Margerison
Think Ink Pines: 186 Hackney Road, E2 7QL   until 13th December!