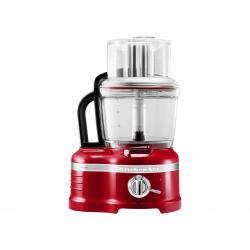 It's the culinary equivalent of Apple Macintosh in its heyday. Its products are undeniably on-trend cool; are available in irresistible colours; do exceptionally clever things; and come from across the pond. It's KitchenAid and its newest Artisan products are stunning.
I watched as the KitchenAid four-litre Artisan food processor chopped and sliced and grated. But not chopping and slicing and grating as I'm used to. Precision chopping and slicing and grating. Its clever ExactSlice system slices cucumber, say, at six widths from 1mm to 6mm. And it does this without having to turn the darned thing off and choose a different blade. A slide of a lever is all it takes. Oh to have had this when I was on the Cordon Bleu Certificate Course way back in 1977 and expected to produce paper-thin see-through cucumber slices, placed along the back of a poached salmon to simulate fishy scales.
Then there's the dicing kit. I quite often dice in my kitchen – a couple, maybe four, banana shallots. Any more and the recipe becomes a chore. Sometimes a slice of finger slivers into the dice. And a lot of blood. Start again. Not with the clever KitchenAid dicing disc – and it's even cleverer snap in and out cleaning tool that pushes the stuck bits through the dice holes saving hours of exasperated poking and jabbing. It made swift easy work of dicing kilos of potatoes to produce Jansson's Temptation, a wonderfully creamy, decadent potato dish made by Liz Moore who was busy in the kitchen using all these new products to cook for we hungry writers. A professional cook in Northern Ireland, Liz's culinary history takes in working with Michel Roux Senior. Perhaps that's why Michel Roux Junior popped into the launch? 
I can see the point of a cordless blender. No awkward untwirling of leads that have turned rigid. No repeated bending down to pick up spoons or ingredients – or stopping to mop up hot stock – swished off or over the worktop while trying to stretch the lead from the socket to the saucepan to give the soup a whizz. The KitchenAid Artisan cordless blender comes in two versions: just the blender or the blender with accessories including two blending arms, one short (20cm) and one longer (33cm). Both come with rechargeable batteries and charger. Shame to keep it in a drawer, it looks so good.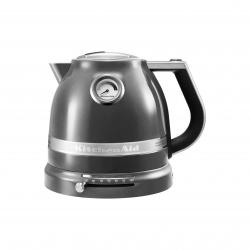 No one ever puts a kettle away, surely, and a kettle is a kettle, isn't it? It boils water. Not if you are a tea-lover, it doesn't. Everyone knows, but not everyone remembers, that it's best to make coffee about 30 seconds after the kettle has boiled so as not to wreck its flavour. Tea, though – much more complex. English Breakfast and Earl Grey should both be made with water at 95°C. Green tea is best brewed at between 75°C and 80°C. White tea at 70°C. Easy with the KitchenAid Artisan kettle (surprisingly, it's the first kettle KitchenAid has made). With an adjustable temperature control, from 50°C to 100°C, you'll always make your preferred brew at the correct temperature. No need to worry about the temperature of the kettle itself, keeping hands and melty things clear – its dual wall means the kettle is cooler on the outside while keeping the water hotter inside. It's quieter too – won't drown out the radio or the ring of the timer telling you your eggs are perfectly boiled.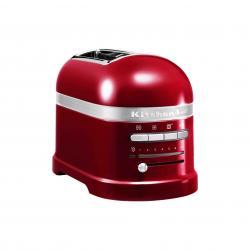 For eggs you need toast and what I really, really want is the KitchenAid Artisan toaster. I couldn't get my hands off it. No one could. It's compellingly tactile and I challenge you not to slide your hands over its domed top, over and over and over again. And then again. It could be a real time-waster at breakfast. Except that it also thinks for you. You know what it's like. You put in a slice or two (or four), set your preferred done-ness (from seven settings) and dash off to shove things into your office bag or try again to rectify a bad hair day or grab your mobile from its charger. The toast pops up. And gets cold. No! An automatic sensor lowers the toast, keeping it warm till you're ready with the butter. Extra wide slots for muffins, a sandwich rack for toasted sandwiches, a defrost function and a bagel setting which toasts the inside and warms the outside. Obviously.
The kettle is already available in John Lewis and Selfridges; the others will be in leading department stores and independent cook shops very soon. Your only decision is which colour to buy. Candy Apple (red) for me, please.
Prices: Artisan 4-litre food processor: RRP £389; Artisan cordless hand blender: RRP £139 (blender) and £199 (blender with accessories); Artisan 1.5 litre kettle: RRP £119; Artisan toaster: RRP £169 (two slice) and £269 (four slice). If you can't stretch to one of these magical machines, treat yourself to a KitchenAid kitchen gadget. The can opener, with its especially smooth movement, is especially desirable.