Are you seeking to pop your paramour's cork this Valentine's?
Then there is no better way to set the scene than by sharing the relaxed conviviality of a bottle of Champagne.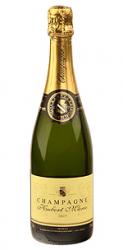 A nice idea perhaps; but with the dratted stuff being so expensive it may leave only enough coppers in your pocket for a bag of chips afterwards.
But wait…impecunious lovers need not be forlorn!
If you're clever enough to spot it, Morrisons will be offering Champagne Hubert Marie Brut , usually priced at £28.99, for a mere £12 during the few days before Valentines.
Vigorously fizzed and firmly flavoured with slightly perfumed floral notes, the Hubert Marie will impress well enough at £12 and leave plenty to spare for splashing out on a handsome prawn cocktail.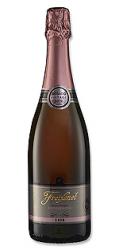 Comparable refinement and charm can be found on Morrisons' shelves at an even better bargain price in the form of Freixenet Exelencia Cava Rosado Vintage 2011 (£5.99 reduced from 12.99)
Ok, not Champagne but a pink Spanish Cava; but a very good Cava, impeccably dressed in a grand bottle capped with bold pink foil; and what quality at the price!
The wine is deeply tinted gold-rose with a soft, mouth filling mousse laden with flavours of bread crust, aromatic red berries and beautifully balanced citric acidity.
Playful yet discreet, approachable yet sophisticated, Freixenet Exelencia Cava Rosado is the perfect budget 'Vino Valentino'.
Stop me now before I say something stupid like "I love you".
Champagne Hubert Marie Brut is widely available in Morrisons stores nationwide (not online) and is usually priced at £28.99 but is reduced to £12 from 11/02/13 – 17/02/13.
Freixenet Exelencia Cava Rosado Vintage 2011 is currently on special offer at £5.99 (usual price £12.99) in Morrisons stores and online at www.morrisonscellar.com